(Läsningstid:
5
minuter)
Today, 3 of March, it is one year since the first Museum of women's history,
history of women's and gender movement in Ukraine opened. I wanted to highlight this and asked the museum's guiding star and director Tetiana Isaieva a couple of questions.
How did it all start?
The idea to create the museum emerged in 2006, after a group of Ukrainian journalists had visited Sweden with the Gender Program «Olga&Oleg», (this project was supported by SIDA). The group studied gender situation and gender equality in Sweden. The visit resulted in a first exhibition and we began to look for new ones. In 2006 we was not sure we could realize our idea about a museum. It just didn't feel realistic, but we started to search for other gender museums in Europe and around the world. We investigated how other museums worked and what kind of projects they implement.
We have many who support our idea, and also some financially. Olena Suslova, Gender coordinator at the Ukrainian parlament, supported our idea and initiated to put the first brick. We got 100 UA (Ukrainian grivnes which is little bit more than 10 €). We understood that we could not make any exhibition from that contribution alone, but it was a responsibility, a start!
Also The Program "Equal Opportunities and Women's Rights in Ukraine" supported our project and provided an opportunity to present our project to a larger audience in September 2008, within the Project «Exhibition of gender ideas and projects». In 2008 we could show our colleagues our collection of pictures.
In March 2008 our project was supported by the Global Fund for Women. Global Fund for women is one of the funds which support women's initiatives around the world. And our first exhibition was presented in Kharkiv, on the 3d of March 2009 in Kharkiv national university within the Study Program for the directors of the gender resource and study centers in different regions of Ukraine.
Larisa Kobelanska – the Head of the Program "Equal Opportunities and Women's Rights in Ukraine", also assisted us to come up with the name for our project name: «Let's create a Museum about us!».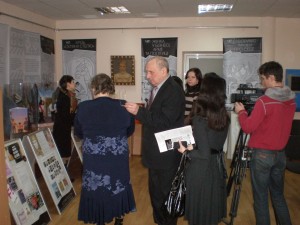 Could you describe your activities?
We gather information about women and men, gender theories and practice, which shows ideas of gender in Ukrainian society. There are many different points of view on roles of women and men in our society of course. The traditional roles for women are mothers and wives, keeper of family. But I am sure that in in many years from now these roles may have changed a lot. One important question for us is that women have to have equal rights and possibilities in all spheres of life. During 2009 we created four panoramas of social feminine and masculine roles and twelve new exhibitions. For exemple, the history of women's, feminist and gender movement, domestic violence, masculine problems. These and many other exhibitions will be exhibited at our museum. We will also tell about female solidarity and women's and gender movements. We want to show that gender problems are not only problems for women but the problems of the whole society. One of the exhibitions is devoted to «Stop sexism!». We hope that in a few years we will be able to see sexist advertisements only at the gender museum.
What do you exhibit at you museum? How does it work?
Our collection consists of more than 350 items, such as pictures, study books, films, interviews, CDs and DVDs, different documents, souvenirs, children toys and books, the post cards and envelopes, household goods, such as "easy labor of women", and even personal things from gender activists. We have some art projects too, «Gender in pictures», «Women's face of Ukraine», «Fеmіnіsm is…», «Gender in children eyes», «Children against violence».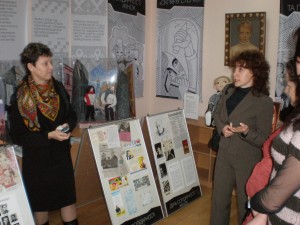 Ukraine has chosen the course to the democratic changes and we are looking for our own way to solve the gender equality. The «Law of Ukraine of equal rights and possibilities for women and men» (2005) and Government Program of gender equality (2006) are items at our museum. The government are implementing gender perspective in Ukraine but changes are rather slow. Nevertheless stereotyped ideas about social feminine and masculine roles continue to remain in society consciousness. Even in new books you can see stereotyped pictures of women and men.
We also tries to gather items about gender situation, about women's movement in different countries. We are extremely grateful to our friends from Germany, Georgia, Sweden, USA, Italy, Lithuania, Korea and Vietnam.
We have created an Internet portal. And it is one of the most powerful Internet gender resources in Ukraine. We have a virtual version of our museum and a Gender Channel. Here we gather films, video materials, interviews and other pieces of information concerning.
What is your hopes and wishes for the future?
We are looking for new items to exhibit and conduct PR and fundraising campaigns for our project. We hope that the creation of the museum will increase the cultural connections between Ukraine and other countries, it will consolidate the women's movement, attract journalists attention and the whole society towards gender issues.
In April 2009 we visited Frauenmuseum Bonn. We were invited to participate in the second International Congress of women's museums and to get in touch with representatives from women's museums in different countries. In September we presented our project at the Congress in Bonn and since then our museum is the member of the network of International women's museums.
In autumn 2009 we prepared two exhibitions, devoted International action "16 days against gender violence" (2009, November) and exhibition "White on white", devoted to International day of solidarity of women and unknown pages of women's history of Ukraine (2010, March).
We are writing our own history, and also rewriting history as it has been perceived. Our society has to travel long until we reach a situation where women's right are fully respected, but this is a start. We also think it is very important to show young generations how ideas about stereotypes are realized in our society and we hope to be able to create a consciousness about this through or exhibitions.
And last I would like to make an invitation: The First Gender Museum in Ukraine invites everyone for cooperation and interaction! And please, pass this information to your colleagues and partners! Become a participant of the project «Let us create a Museum about us!».
---