(Läsningstid:
11
minuter)
This essay by Annica Karlsson Rixon and Anna Viola Hallberg is about their installation project State of Mind. It has been exhibited in Stockholm, S:t Petersburg and Kiev, just to mention some. State of Mind will be exhibited at Y Gallery in Minsk, Belarus in March 2010.

Download full pdf here.
Acquiring direction
'Life itself' is often imagined in terms of 'having a direction', which decides from the present what the future should be. After all, to acquire a direction takes time, even if it feels as if we have always followed one line or another, or as if we 'began' and 'ended' at the same place. Indeed, it is by following some lines more then others that we might acquire our sense of who it is that we are.
Sara Ahmed Queer Phenomenology. Duke University Press. 2006.
The writing of this text started at the end of July, a few days after installing State of Mind, for the first time, in the context of EuroPride 08 in Stockholm. [Kulturhuset – Stockholm, July 25 – August 25, 2008. State of Mind is exhibited together with Resonanse at ROSPHOTO – the Russian state center of photography in St. Petersburg, September 5 – October 5, 2008. A tour is planned for Kiev and Kharkov, Ukraine in 2009 and then to move onwards.] The setting for this opening forms an accentuated framework for the narrative, it becomes a component of history writing and an illustrative element for media in the reporting on the event focusing on the themes of the festival; "breaking borders" [The theme for EuroPride in Stockholm 2008 is "Swedish Sin, Breaking Borders".], bridging politics, culture and entertainment.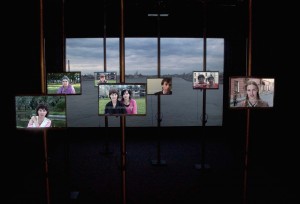 State of Mind consolidates to a trilogy together with Resonance and Code of Silence. In different ways these lens-based art installations cast light on aspects of socially and culturally constructed identity-based groups in contemporary society. Photography and video are used in combination to expand on the separate histories of the two media with regard to interviews and portraits in documentary genres. This is the point of departure for all three installations. As for the overall narrative, the topics of how and why different groupings construct networks and communities in order to achieve a sense of belonging are in focus, as well as the conditions and necessities for forming the community. The projects look at the social conventions family, love and career, dealing with power relations such as gender, ethnicity, sexual orientation and class. The method of collecting the material in fieldwork is similar in the three projects, but the questions asked and issues raised are specific to each segment of the installations. Portraiture and personally based stories are central. The trilogy is presented as three separate art installations, which co-exist and cross-inform each other. They reflect upon civil rights issues and the idea of being safe and productive within society, working in the space between personal choice and social expectations. Memory, narration, visual representation and oral history are central. In each of the three works a different group is approached that relates to the artists' personal lives. Resonance [Resonance was exhibited at Norrköping Art Museum, Göteborgs Konsthall and Uppsala Museum of Art during 2006-2007.], our first collaboration, is based on a network of peers belonging to a successful generation of artists and curators. They are all women who made an entrance onto the Swedish and Danish art scene in the 1990´s, and now have international careers. On one level Resonance is an examination of the Scandinavian welfare state, and in more specific terms, the impact of the conditions it creates for the portrayed women to make it on the art scene. In Code of Silence [Code of Silence will be ready to be launched in 2009.] this is a sibling group of five who grew up on a small farm in rural Gothenburg, Sweden. The farm had to face the challenge of major cultural reforms in the nineteenth century, but remained intact. It became a target for expropriation during the 1950´s and 70´s to make way for the reforms involved in building the modern Sweden. Hence, it remained an object of possible interest for the national cultural heritage. The farm was finally demolished in 2004. Code of Silence is based on oral history, memories told by the siblings infringing the UN's Declaration of Human Rights paragraph 17 relating to everyone's right to a home. In addition this installation includes a large number of private and official documents such as hand-written wills, receipts from selling milk, and letters to the King of Sweden. State of Mind explores everyday life and the boundaries between ethics, legislation, prejudice and civic expectations in the LGBTQ [Lesbian, Gay, Bisexual, Transsexual, Queer] life of St. Petersburg, Russia. It emphasizes individuals identifying as lesbians or bisexual women.
For the records
What can I tell you except the truth? We do not have a history. We are not even visible to each other.
Harmony Hammond Lesbian Artists. 1978. The Feminism and Visual Culture Reader. Routledge. 2003.
Who would we be if we placed ourselves in St. Petersburg for a while? Could we get in touch with, take part in, a community? Get a sense of belonging? As artists who frequently travel in the profession, we have a kind of international community, meaning we can tap into places because of shared interests and common spaces. The same goes for a queer scene. But for two Swedish artists, with a past in the US, what kind of network would be available in a country geographically much closer than America, but with a language and cultural codes that are quite unfamiliar?
State of Mind was, from the beginning, approached as a research project, allowing us to "look into" things without the demand for a specific end product such as an artwork or a film. This zone of exploration was made feasible by a stipend and an art residency, an apartment for two months in St. Petersburg in the fall of 2006. When we were there we detected a lack of representation of both a noticeable contemporary art scene and a unified LGBTQ scene. This was at a time when the Russian journalist Anna Politkovskaya was killed, xenophobia and orthodox extremists were claiming a presence in the streets, and through this also in the media. Coinciding with these phenomena, another major change was occurring, the international community was holding back, or was limited in its ways of acting. Neither the support nor the belief in the future were what they were at the time around Perestroika. In this somewhat turbulent time, economic growth in St. Petersburg reached about 11% per year. What could be sensed though was tiredness, specifically amongst "the children of the Soviet". For a time, there was so much hope in the new era, but this suddenly got out of hand, while the times turned in another direction. Where did the hope go? We decided to look into this via our borrowed group identity, that of the Russian LGBTQ scene in the city of St. Petersburg. And later on to participate in setting up representation for the group. One of the main conditions for the making of State of Mind was this double positioning, on the one hand, entering as outsiders with the perspective of two foreigners who are visitors to a country where they have no command of the language or the cultural codes, but at the same time with an insider's access to a group of lesbian and bisexual women.

State of Mind has been in progress since the fall of 2005, when we initiated contact with a couple in St. Petersburg on an international matchmaking site. They were looking for international friends, we were looking for a pre-understanding of life in "Pieter". This gave us a chance to brief our impressions prior to getting there, but also upon arrival, it gave us something to bounce our thinking against. We went to St Petersburg for a week in July 2006 to meet up with the couple. This first visit gave us a platform for making the five-minute one-channel work, State of Mind – Prologue (2006) [State of Mind – Prologue was shown at Pride På Stan, Stockholm Pride, Gallerian, Stockholm, July 31 – August 6, 2006, and at the out door group exhibition Inside Out, Brunnsparken, Gothenburg, August 4 – 13, 2006.]. The next important forum was the reception held by the Swedish General Consulate in St. Petersburg in the fall of 2006. This served as an opportunity to invite an array of guests to whom we could present our previous work and get the much-needed authority and approval of the project from the General Consul himself. Due to competition between various groups, and issues of leadership, it could have been that, if we had selected whom to work with, others might have chosen not to work with us. Our method was to encourage everyone present at the reception to engage with us and to plan for an interview. We did not actively select anyone, they themselves decided to be included, and to what degree. Some only in the video part, some in photographs, other became discussion partners without participating visually in the project. Much of the fall 2006 was spent talking to people representing some of the activist groups in St. Petersburg. We still left the final presentation of the project open.
Returning in the summer of 2007 for a three weeks session, we were able to work much faster. Many people now knew about us, and the project, but also from our standpoint, we knew so much more about how we wanted to conduct the interviews. One point was to maintain a high level of presence in the "talking heads". The aim was to create a sense that the interviewees are talking directly to the person listening in the art installation. In order to achieve this we left out the process of interpretation during the interviews, the specifics of the material first became known to us when we were back home working with a translator. We also abandoned the idea of an indoor environment, and took to the streets and parks of choice of the persons being portrayed both in the video segment and in the group photographs. It felt important to show people in public space, as we had experienced that gay women are actually quite visible in the streets of St. Petersburg [Something that differs from Sweden, at least historically, when it comes to lesbians. See: Arne Nilsson and Margareta Lindholm. En annan stad. Alfabeta Bokförlag AB, 2002.]. The selection principle was an arm's-length away, both from us and from the growing group. We said that we wanted a broad representation in terms of age, occupation and lifestyle. One of the visual impressions we knew we wanted to leave behind in the installation was strands of networks, people coming together. These were the conditions to pursue in order to present an indexical collaboration between both the activist groups and the selected individuals in St. Petersburg, and for that matter in the cities to which the exhibition will travel.
Leaving traces
You are touching upon the most important dilemma facing any viewer of a work of art: whether to gain concrete knowledge and then leave, or to immerse yourself in what is offered.
Ilya Kabakov [In conversation with Robert Storr, 1995, In Ilya Kabakov, Phaidon Press Limited, 1998.]
State of Mind aims to encourage a discussion of intercultural perspectives and identity politics. It inquires into topics such as shortcomings vs. possibilities, belonging vs. alienation, ascribed vs. selected identity. It provides a quite exclusive view of a selected group in St. Petersburg and shows evidence of stamina, sincerity and activism, revealing stories of contemporary city life for individuals identifying as lesbians, bisexual and/or people working with LGBTQ-related issues in Russia. In the visualization of State of Mind, the video components are to be viewed as an ever-changing group portrait with the river Neva as a backdrop, a constellation that is unlikely to be the same twice. This creates a link between the photographic group portraits and the more loosely orchestrated time-based video portraits. The etching effect of the stills contrasts with the flow of imagery from the seven monitors, while the ambient sound from the video installation travels back to the photographs. On the monitors 38 people talk freely about politics, East-West, private situations and confrontations, as well as their view of the future. Issues of leadership, democracy, community and women's rights are central. The stories portray both general and personal aspects of everyday life. The interviewees range in age from 17-67, and include students, journalists, psychologists, pole dancers, physicians, office workers, drivers, poets, lawyers, academics, business owners, rock stars, housewives et cetera. The large-format photographs portray families, friends and lovers, most of them activists working on their special issues. These can be home performances or parties, video distribution, book publishing or organizing a discussion forum on the Internet.
A number of contradictory dilemmas were faced when working with State of Mind, one being the complexity of working with documentary material, as the field of documentary photography and film is rightfully questioned for exploitation and for making claims to "the truth". Another challenge was approaching a group that has hardly been visually represented. What kind of image would we give? In addition, gays in Russia are living without legal or social rights, and for that reason many fear to be open about their orientation as they get close to everyday settings such as family or the workplace. State of Mind is a consequence of a long-term trust-building process, and this trust demands great responsibility in return. Touring the exhibition in Russia, for some in all the post-Soviet countries, means that a number of the visuals have to be removed for these venues, and for the videos, and replaced by a neutral image in order to be able to keep the voices. This is something we need to be constantly updated on, and it means that those portrayed have to be contacted before every new venue, since things might change along the line. Someone might get a new job, another may have decided to come out and be open with their family, the political situation in Russia might change. This is a complicated work process, both socially and workwise, but it creates an opening for including a number of interesting life stories, and the possibility of providing an impression of the LGBTQ scene in St. Petersburg that is rich and complex.
From the very beginning, State of Mind was an open research project, but, it took us deep into issues of human rights, community and activist work. One of the long-term aims is to encourage an amalgamation of the work of agents who operate separately, and to contribute to the forming of a coalition between individuals and organizations. The installation is now travelling with the Lezzy Think Tank, a forum for a continued dialogue about State of Mind, with a focus on a relay that passes on experiences from one exhibition city to another. State of Mind is used both as visualization and documentation of the present, but might also function as a spark for exchanges between existing structures.
By Annica Karlsson Rixon & Anna Viola Hallberg