(Läsningstid:
3
minuter)
Även om orangea revolutionen inte präglades av en alltför tydlig strävan att förändra den ukrainska genusordningen, är nog de flesta överens om att förra presidenten, Viktor Jusjenko, visade mer tydlig vilja att förändra en förlegad syn på kvinnor och mäns livsuppgifter än hans efterträdare namne Janukovitj. (Läs mer om orange revolutionen och synen på genus.) För många innebär Janukovitj tillträde som president inte enbart ett närmande till Ryssland, utan också att en känd jämställdhetsmotståndare kommer till makten. Dessutom går det rykten att hans fängelsedom från 1967 innehöll anklagelser om våldtäkts. (Detta har i efterhand inte kunnat bevisas av hans politiska motståndare eller journalister.)
Känt är i alla fall att han inte föredrar kvinnor som gör karriär, och det är inte troligt att han kommer att eftersträva att Ukrainas jämställdhetslag efterlevs. Lagen skrevs under redan 2005 av avgående presidenten Jusjenko, och är enligt många ett ukrainskt försök att närma sig en europeisk värdegrund, där jämställdhet är en del av mänskliga rättigheter för att befordrar den demokratiska utvecklingen.
Förre presidenten manade dessutom inledningsvis på ett mer jämställt Ukraina, då det skulle leda till en bättre ekonomi. Han pekade till och med på länder som Sverige, och sa att ett välfärdssamhälle aldrig skulle vara möjlighet utan jämställdhet!
Men nu låter det som om allt är bara en dans på röda rosor och att Ukraina nu förlorar sin bäste förkämpe för kvinnors rättigheter. Då ska man inte glömma att Jusjenko var Tymosjenkos värsta kritiker och en av orsakerna till att hon inte valdes till president. (Det är klart att Tymosjenko inte är en jämställdhetsförespråkare, men kan någon verkligen tro att hon skulle ha en ärlig chans om hon sa att hon vore det?)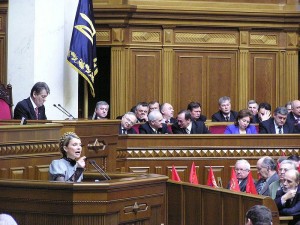 Tymosjenko i februari 2005. Som synes var det mest män i kabinettet då… Och det har inte förändrats nämnvärt.
Bild uppladdad av Sashazlv.
Maria Alekseyenko på Women's Consortium of Ukraine menar att Tymosjenko i alla fall kan vara en förebild för andra kvinnor, och att det skulle kunna underlätta för ukrainska kvinnor att göra karriär om de hade sådan förebilder. Samma organisation, Women's Consortium of Ukraine, skickade även ut ett frågeformulär med nio ynkliga frågor till alla presidentkandidater i första valomgången. (Ukraina hade i detta val två valomgångar och den första innehåller alltid fler än två kandidater.) Frågorna handlade om hur kandidaterna såg på jämställdhet och genus.
– Det var tydligt att det var en icke-fråga i valet, för bara en svarade, säger Maria. Det svaret var ett riktigt "Goddag Yxskaft"-svar, författat av någon mindre kunnig assistent.
Så om vi ska se några förbättringar på jämställdhetsområdet i Ukraina under de närmaste fem åren, så lär det inte komma från presidenten. Men det är uppenbart att många NGOs, inklusive Women's Consortium of Ukraine, inte tänker sluta sitt enträgna förändringsarbete.