(Läsningstid:
3
minuter)
"Det är lite svårt att hitta tid. Jag har nämligen tre jobb", skrattar Anna Mysysjyn avväpnande, när vi äntligen träffas efter flertalet misslyckande försök att ses. Bland hennes tre jobb finns ett som intresserar mig mer – projektet Inclusive e-democracy.
Inclusive e-democracy är ett projekt som leds av organisationen Institute of Innovative Governance. Projektet som har för avsikt att stärka e-demokratin i Ukraina, alltså att ge medborgarna bättre inblick i den politiska styrningen. Tanken till projektet föddes då Anna var student inom ramen för Erasmus+ i Estland. Hon fascinerades av hur myndigheternas användning av internet var riktat mot att försöka ge medborgarna större förtroende för den demokratiska processen. Hon såg även att många funktioner kunde bli säkrare med en tillämpad e-demokrati.
"Som exempel, läkarna i Estland kan logga in på apotekens databas för att se var den medicin finns som de ska skriva ut till en patient. Patienten behöver inte springa runt och leta efter medicinen på olika apotek, utan får en adress dit den kan hämta ut receptet. Det skapar trygghet och är dessutom mer tidseffektivt", förklarar Anna.
När Anna kom hem till Lviv började hon och hennes team att undersöka var det fanns störst behov att stärka tillgängligheten på Lvivs kommuns webbplats. De hittade snabbt flera brister, men det som var mest akut var att deras sidor inte vara anpassade för de med synnedsättning.
De satte samman en ansökan och fick medel från Förenta nationernas utvecklingsprogram (UNDP) till att utveckla en web-checker. Web-checkern är central i projektet då det är en sida där webbutvecklarna själva kan kontrollera vilka hinder som finns för synskadade på deras webbsidor.
Projektet Inclusive e-democracy arbetar även med att sprida kunskap om vilka behov syn- och hörselskadade har för att ges möjlighet att ta del av den lokala politiska processen. Projektet har alltså två hörnstenar, å ena sidan arbetar de med att hjälpa kommuner att förbättra sina webbplatser, samt att de genom föreläsningar och workshops förstärker kommunens kunskap om hur man ökar tillgängligheten för de med funktionsnedsättning.
I dagsläget är det sex kommuner som medverkar i projektet. Förutom Lviv är det Drohobytj, Truskavets, Borislav, Tjervonohrad och Javoriv. (Det vore ju roligt om Busk kom upp på den listan också.) Men projektet har inte tänkt att stanna där. I maj kommer man påbörja en lansering i hela Ukraina.
Anna är en person med sprudlande kreativitet och tydligen enormt mycket energi. Institute of Innovative Governance har även initierat en kampanj för att få Lvivs kommun att förbättra kollektivtrafiken, och som av en händelse har Lvivs kommun just före vi sågs godkänt deras förslag om att utöka kollektivtrafiken i Lviv. Om fem år ska de gula småbussarna (marsjutka), som idag är stommen i stadens hopplöst eftersatta kollektivtrafik, vara ett minne blott.
Men Anna blickar redan framåt. När vi diskuterar hur oframkomlig Lviv är för människor med funktionsnedsättning berättar hon att hon redan leker med en idé om att utveckla en app för mobiltelefoner som kan guida exempelvis rullstolsburna genom staden. De skulle med den kunna se var det finns övergångsställen utan skarpa trottoarskanter, eller ramper för att ta sig upp för trappor.
För Anna är det en självklarhet att engagera sig i de här frågorna, och hon har svårt att förstå de jämnåriga som inte vill delta i arbetet med att förbättra Ukraina.
"Alla som åker ut i Europa och studerar borde försöka hitta goda förebilder och exempel på hur man skapar ett bättre samhälle, för att sedan komma hem efter sina studier och arbete för det här", menar hon.
Och genom sitt engagemang är hon själv också en sådan förebild för andra. Hennes sorts entusiasm och framtidstro är vital för att Ukraina ska kunna resa sig ur den samhälleliga kris som landet befinner sig i.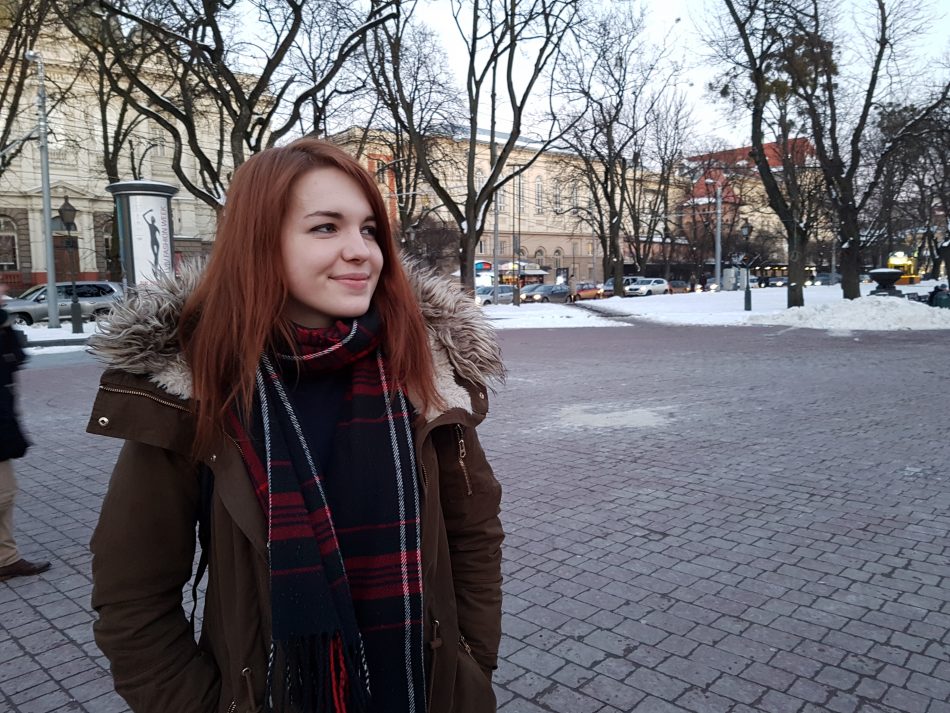 Anna Mysysjyn, med engagemang för en bättre framtid.
---