Category: antisemitism, art, by sophie engström, Centraleuropa, Historia, Jews, Kåseri, krönika, ukraina
Tags: Abraham Manievitj, antisemitism, judar, Judisk historia i Ukraina, Picasso, Pogromer
(Läsningstid:
3
minuter)
En ensam get står i förgrunden. Med lyft huvud tycks han speja ut ur bilden. Som om han frågar sig om mördandet och oroligheterna ska komma tillbaka. Himmeln har en oroväckande brandgul ton. Där borta brinner det. Vi förstår det helt tydligt. Målningen är skapad av Abraham Manievitj och föreställer enligt titeln pogromen i Kyjivs judiska getto 1919. (Destruction of the Ghetto, Kyiv) Han förlorade sin då 17-årige son i den pogromen. Det är lätt att erfara hans sorg i penseldragen. En ensam förtvivlad man, som fråntagits förmågan att känna glädje.
För 100 år sedan var Ukraina ett land och område som hade en stor judisk befolkning. Det är idag ofta svårt att tro. Under förintelsen mördades praktiskt taget alla judar i det vi idag kallar Ukraina. Men förföljelser och pogromer skedde långt tidigare. Under Chmelnytskyj-upproret på 1600-talet blev judarna utsatta för våld och mördades i tiotusentals. Man tvistar än idag om hur många som mördades då, men många källor säger att ungefär hälften av alla judar mördades under det uppropet.
Under hela tsartiden förekom pogromer, och det är därför kanske inte så konstigt att många judar trodde att bolsjevikernas revolution i Ryssland skulle leda till att judarna äntligen fick frid. Men det skulle tyvärr visa sig vara en svåruppnåelig dröm. I kölvattnet på inbördeskriget späddes fördomarna mot judar på. Alla sidor i konflikten gav sig faktiskt på judarna. De vita (alltså de som stödde den tidigare tsarens styre) begick flera pogromer. Även de röda bolsjevikerna gjorde sig skyldiga till pogromer samt de styrkor som stred för ukrainsk självständighet. Judarna var alltså ansatta från alla håll.
Det här våldet drabbade alltför många judar, och även då Abraham Manievitj. Han hade egentligen fram till dess att hans son mördades trott på bolsjevikerna. Han hade till och med varit i Moskva och genom sitt konstnärliga arbete visat sitt stöd för revolutionen. Men allt ändrades i och med att hans son mördades. Han tappade tron på det förlovade kommunistiska landet, och flydde.
Först begav han sig till Polen, därefter till London, men siktet var inställt på USA. Där hamnade han 1922. Den första tiden präglades av sorg och förvirring, men snart fann han en ny kreativ glöd. När han gick bort 1942 var han en buren konstnär och författare i det nya hemlandet. Han blev 61 år gammal.
Målningen nu ser nedan tillhör en av hans mest kända. Kanske för att förödelsen och sorgen är så tydligt markerat. Den här även jämförts med Picassos målning Guernica, som skildrar inbördeskriget i Spanien under 1930-talet.
Det är i år 100 sedan denna målning skapades till minnet av mordet på Abraham Manievitjs son. Ett minne som måste bevaras, och kanske borde 2019 också vara året då vi minns dem som mördades i dessa pogromer. Ty de förtjänar inte att gömmas undan i glömskans rike.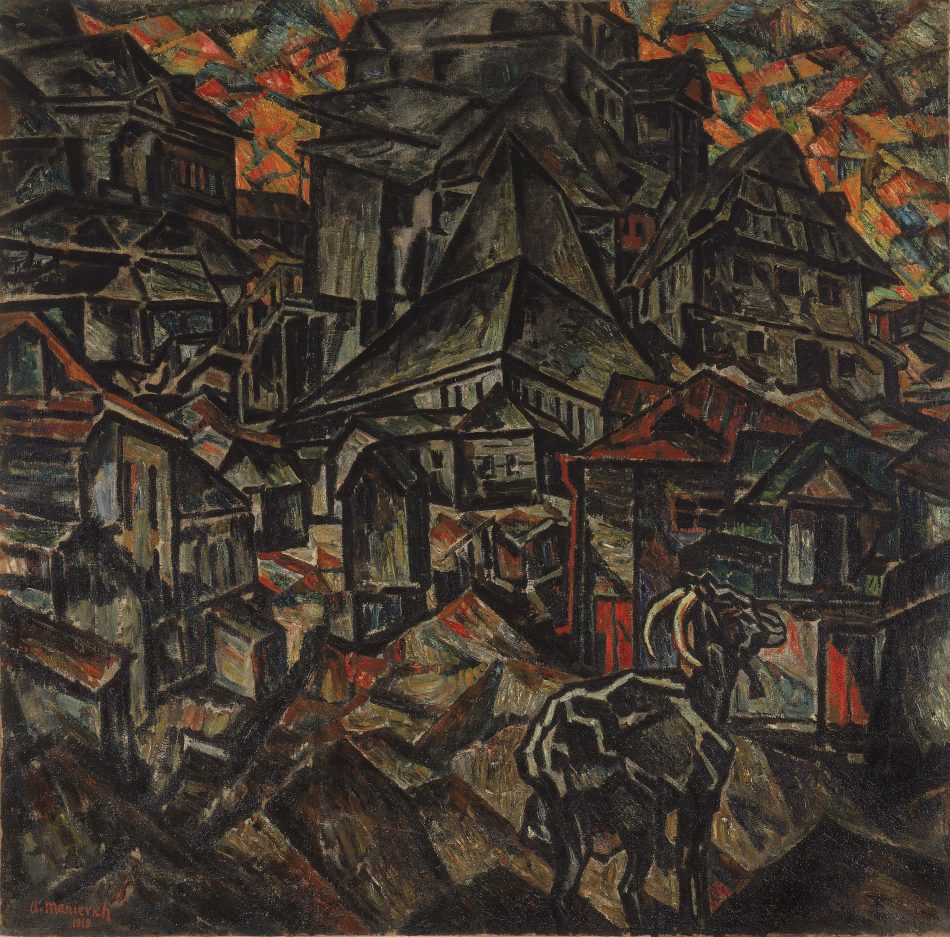 Målningen är funnen på Jewish Museums hemsida.
---