(Läsningstid:
3
minuter)
Du är nog inte ensam, enär jag tror att det även finns andra där ute bland ettorna och nollorna som tycker att jag klagar alltför mycket på Ukraina. Men ni har ju givetvis fel. Jag klagar inte. Jag uttrycker en åsikt. Ibland tycker jag till om mer än en sak, vilket kan tyckas störande för sådana som föredrar folk som sitter stilla i båten.
Trots att jag är barnbarn till en sjökapten, så sitter jag aldrig stilla i båten. Jag borde egentligen veta bättre. Människor som bökar runt i båten skapar en ordentlig oreda och i sällsynta fall utsätter andra ibland för fara. Nu tror jag dock inte att mitt bökande utsätter någon för fara, då karaktären på mina göromål alltid är fredliga. Men jag har i alla fall bott här tillräckligt länge för att ha förstått att det är precis så man gör här, om man vill få någonting gjort. Man bökar i båten, helt enkelt. Kanske har det att göra med att Lviv just är en stad befolkat av landkrabbor, eller så är det bara så det går till.
Igår skrev jag om Lviv Volunteer Centers initiativ att lyfta fram de gravstenar som Gestapo tvingade judar att lägga som vägmatrial på en gata i Lviv under andra världskriget. Jag tryckte på att staden borde bidra. Det jag avsåg var att de enkelt skulle kunna hjälpa till med manskap (ok, kanske en båtterm), maskiner och utrustning samt moraliskt stöd.
Lvivs stad sa till Lviv Volunteer Center att de fick några dagar på sig att göra vad de kunde åt saken. Sedan skulle gatan asfalteras igen. Jag har svårt att föreställa mig att staden verkligen trodde att Lviv Volunteer Center skulle klara av att få upp särskilt många gravstenar. Varje gata i kvarteret kan ha gravstenar som ligger som de vi plockade upp igår. Sida vid sida ligger de, pressade ner mot marken i en stum glömska.
Men så behöver det inte vara. Lvivs stad skulle kunna göra detta till ett riktigt goodwill-projekt vars budskap skulle kunna nå vida omkring. Staden skulle kunna bli känd som den som vägrar förtränga denna svåra och fasansfulla del av den gemensamma historien. Lviv skulle helt enkelt kunna bli en förebild. Ett föredöme för andra städer med liknande situationer. Och man skulle kunna göra nytta, inte bara för Lviv och regionen runt omkring denna vackra stad. Vågorna från ett sådant projekt skulle resa långt mycket längre. Om staden beslutar sig för att ta upp alla gravstenar, och ordna ett monument på Janovskij begravningsplats, så som Lviv Volunteer Center vill, kommer det att bli en världsnyhet. Så omfattande är projektet som vi var med och inledde igår.
Men för att nå dithän måste man arbeta med finess. Det finns de som ägnar nästan hela sin vakna tid åt att utmålas Ukraina som ett bo för fascism. Som boende i landet kan jag meddela att det är fullkomlig nys. Om det vore så, skulle inte människor engagera sig i projekt som belyser vad fascismens groteska tryne åstadkom.
Ty redan idag har vi sett lvivianernas reaktioner på vårt arbete igår. Tre nyhetsportaler, som tillhör de tongivande i regionen, har skrivit om Lviv Volunteer Centers aktion. Samtidigt börjar det pyra, puttra och koka bland gräsrötterna. På sociala medier är nyheten om gårdagens arbete en riktig viral. Och alla är rörande överens, staden måste engagera sig.
Och som Marla Raucher Osborn från Rohatyn Jewish Heritage skrev idag: "if you are not here working, or supporting who that are, you are not part of the solution".
Min tolkning, av reaktionerna under dagen, är att folket vill vara del av lösningen att skapa en bättre framtid med större insikt för den gemensamma historien. Nu är det dags för politikerna att ta vid. Och att ta rätt beslut.
Och till dig som tycker jag gnäller, nå, det är bara att vänja sig.
#Roadsofmemory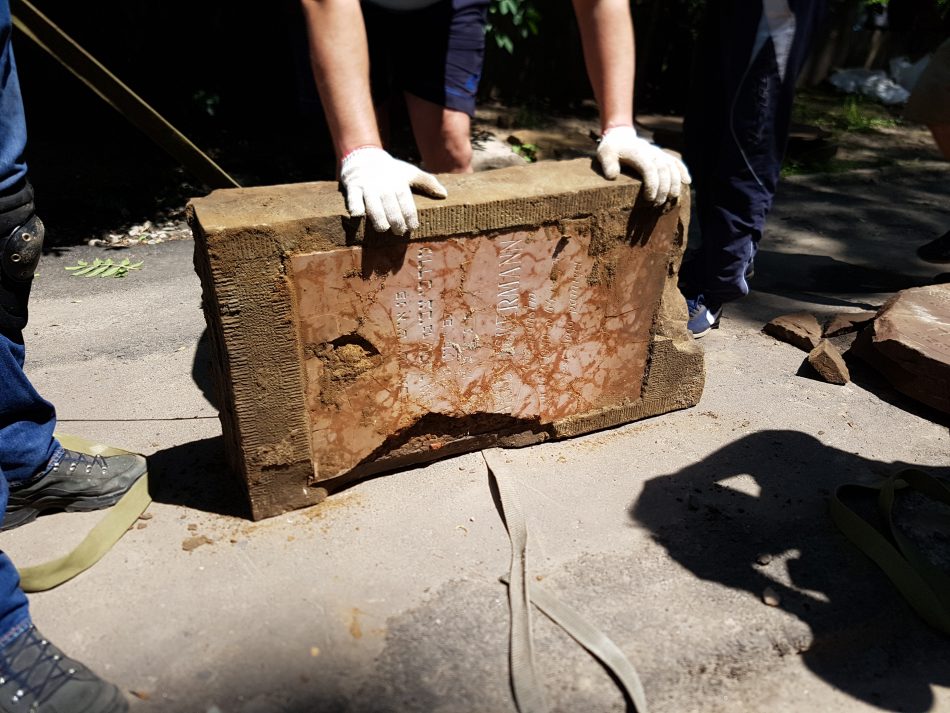 Artiklar som skrivit idag.
Zaxid: https://zaxid.net/u_lvovi_pid_chas_remontu_dorogi_znayshli_yevreyski_nadmogilni_pliti_n1459816
Zik:
https://zik.ua/news/2018/06/22/u_lvovi_pid_chas_remontu_vyyavyly_dorogu_vykladenu_z_matsev__ievreyskyh_1351531
Forpost:
http://forpost.lviv.ua/novyny/13078-u-lvovi-pid-chas-remontu-vyiavyly-dorohu-vykladenu-z-matsev-ievreiskykh-nadhrobkiv