(Läsningstid:
3
minuter)
"I krig lider kvinnor mest", säger Richard Moriarty med eftertryck från scenen i Orgelsalen. Det råder en spänd atmosfär efter hans ord. I Ukraina känner man väl till de civilas lidande, men det är oftast soldaternas offensiver, och död, som skapar de stora hyllningskörerna. Kvinnornas lidande möts ofta med en stum tystnad. Vi vet att de finns, att deras lidande är verkligt, men det delas inte ut några tapperhetsmedaljer i civilt lidande.
Richard Moriartys verk "We That Wait", som ikväll uppfördes första gången i Ukraina, består av sju sånger, baserade på i huvudsak kvinnors röster. En tonsatt cykel, där krigets grymhet gestaltas i en skicklig orkestering. Orden faller ut i pukslagarnas bombardemangskaskad. Ett fält om våren, där blommor skulle blomma, har bytts ut mot en lerig sörja av våld. Det låter kanske groteskt, men stundtals är det smäktande vackert. Skönheten och livet försöker bryta upp, bort och förbi våldet. De reser sig upp mot skyn, men tvingas ner av de fasor som följer med kriget. Emily Dickinson tillhör de mest välkända poeterna som Moriarty har valt, men det är tonsättningen av Ella Wrens dikt "We Have Parted", som griper tag i mig. Den rymmer både sentimentalitet, och en ilska över det som förlorats.
Jag har ingen kunskap om hur vanligt det är med tonsättningar som hyllar kvinnors lidande i krig, men en snabb genomgång i mitt inre kartotek leder inte till några resultat. Det betyder inte att de inte finns, men det är ändå talande att jag inte känner till en endaste liknande tonsättning.
Efter pausen tar Richard Moriarty tag i ett annat känsligt ämne. Kvinnors rätt till prästerskap i den katolska kyrkan. "Adsum!", som betyder "Jag är här" på latin, är en symfoni i nio satser för orkester, kör samt två sångare, en sopran och en tenor. Stycket är till sin karaktär inte lika lättillgängligt som ovannämnda "We That Wait". Här finns en återhållen vrede, som lyser fram genom tonerna. Varje sats, ja, praktiskt taget varje ton, hamrar in i oss åhörare att rätten att få leda en gudstjänst ska ges till alla som känner sig kallade. Vreden slungas ut i det rum, som även tjänar som just katolsk kyrka. Den slår mot kyrkans väggar, och plötsligt släpps ljuset in, när de två sångarna förenas och sjunger simultant. För mitt inre förvandlats kvällens konsert därför till en revansch. Kanske är det Moriartys personliga revansch, men vi alla görs ändock delaktiga.
Det är oerhört vackert och även mycket intressant att denne tonsättare tycks brinna för kvinnors rätt att göra sina röster hörda. För lika mycket som styckena handlar om krig och rätt till att vara präst, handlar de om kvinnor, i sammanhang där de oftast är osynliga.
Kvällens dirigent är den mycket uppskattade Theodore Kuchar, och jag tror mig ana att han ligger bakom att Richard Moriarty låter uppföra sina två mest kända verk här. Det är en ynnest att Orgelsalen har fått ett ledarskap som gör att den här typen av konserter vanligare i Lviv. Och som så ofta på just Orgelsalen så är medelåldern i publiken låg. Det bådar ju gott för framtiden. En ny scen har inte heller lett till att publiken sinar på andra håll (det kan jag själv intyga), utan har endast inneburit att nya människor får smak på konstmusik.
Och i en bättre värld hade vi skapat och lyssnat till mer musik, istället för att slakta varandra på våldets blodtörstiga och tillika omättliga altare.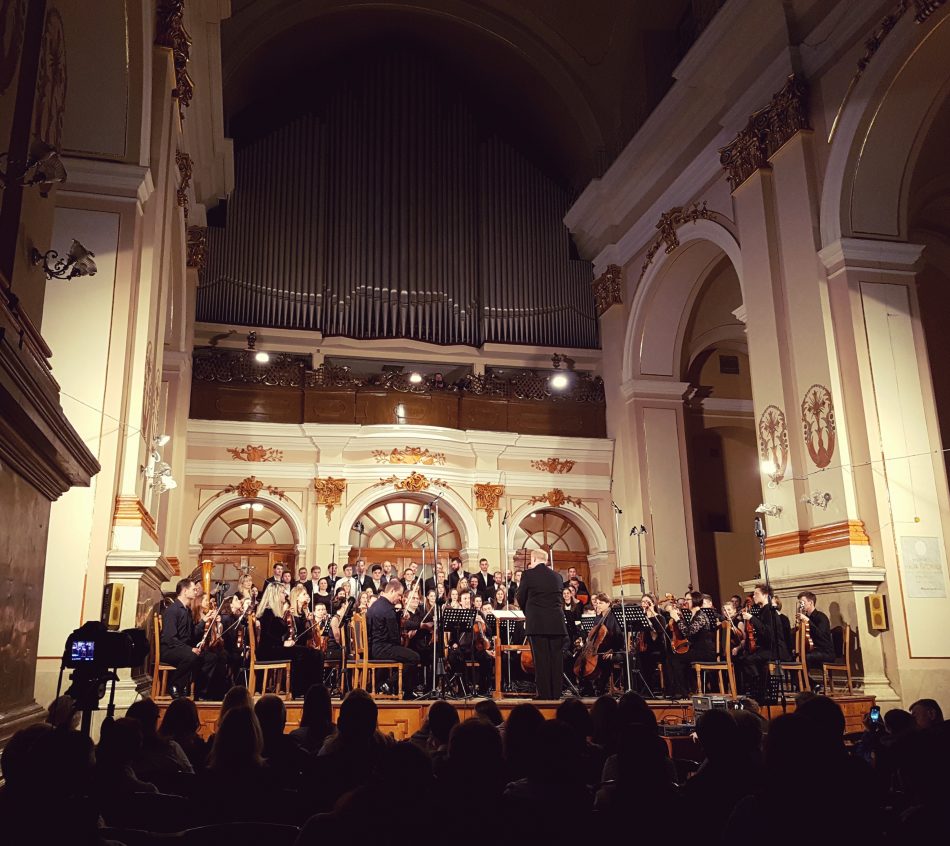 ---