(Läsningstid:
2
minuter)
The other day the Russian State Prosecutors asked for a three-years sentence for the organizers of the controversial exhibitions "Forbidden Art – 2006" in Moscow. The organizers, Yury Samodurov, the former Director of the Sakharov Museum in Moscow, and Andrey Erofeev, a former curator at the State Tretyakov Gallery, are charged under the Art. 282. The Art. 282 defendants can be facing a sentences to prison for five years! Samodurov and Erofeev claims it is a "fifty-fifty change" that they are convicted and take an example from 2005, when Samodurov and a museum worker Lyudmila Vasilovskaya were found guilty of inciting religious hatred and sentenced to a fine of 100 thousand rubles for another exhibition, "Caution, Religion!".
On the accusations bench you find the Orthodox nationalists "People's Cathedral". They have sued the exhibition and the organizers for "offending religious feelings". The exhibited pieces at "Forbidden Art – 2006" were such that was not athorized to be shown for the public. Among those works was a work by American artist Vagrich Bakhchanyan that shows a Soviet-era medal of Vladimir Lenin on a cross that should to give the impression that has been crucified.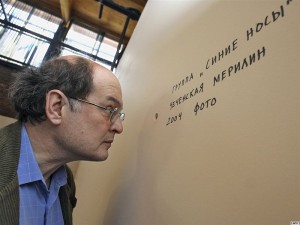 From the exhibition "Forbidden Art 2006"
So I ask: Art? Who cares about art these days? Well, not many enough, some of you perhaps say. Far too many, the Russian State prosecutors seems to think and feel that they need to be protect us (or themselves?) from it's force and power! Or is it just that the prosecutors believe that is possible to whatever they like with curators and artists? Since there are very few that protesters anyway?
It is actually high time we show them they are wrong!! We must act on an international level! We cannot let authorities (Russian, Swedish, Ukrainian, German, Italian etc etc) decide what kind of art that should be allowed to be shown. Show your support for the organizers and for the survival of freedom of expression!
Write on your blog about it!
Or join the Facebook-group shows the support for the organizers.
••••
Open letter from The European Cultural Parliament
Rights in Russia
At Russian News Line
At Radio Free Europe
---