(Läsningstid:
2
minuter)
Det var en magisk stämning på Lvivs filharmoni i onsdags när Olena Leonova framförde sin That Crazed Girl. Som skandinav är jag van vid ganska sparsmakade framförande av experimentell jazz, men onsdagens konsert var allt annat än sparsmakad, frånsett en alltför liten publiktillströmning.
Jag uppfattar Olena Leonovas verk That Crazed Girl som en undersökning i kvinnoroller, eller snarare nedmontering av kvinnonormer. De två sångerskorna Oleysa Zhdorovechka och Nazhul Shukayeva har med sitt breda register, genom sina röster och i framställningen, lätt att klara den krävande uppgiften. Olena Leonova själv, samt saxofonisten Olena Pavlova blev en självklar del av nedmonteringen och dekonstruktionen av dessa roller. Själv imponerades jag mycket av Pavlovas spel och jag måste medge ett extra stort leende när jag hör en kvinna så mästerligt bemästra manliga bastioner, som träblåset faktiskt är. Pavlovas spel är modigt, egensinnigt och kunnigt på en och samma gång.
Man bör också nämna kontrabasisten Mark Tokar, som har en enorm förmåga att föra samman olika energier i galet egensinniga improvisationer!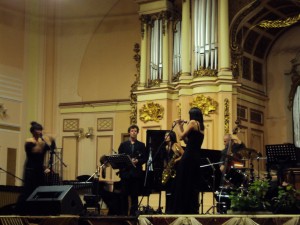 That Crazed Girl är inspirerade W.B. Yeats dikt A crazed girl och inledningsvis hotade konferenciern med att vi skulle få höra inslag av Irländsk folkmusik, men till min stora glädje var det knappast skönjbart.
Själv hoppas jag att snart igen få göra bekantskap med Olenas Leonovas kompositioner. En konsert gav mersmak och var helt enkelt inte tillräckligt!

Från ett tidigare framträdande, dock med andra musiker än onsdagskvällens ensemble.

Ett inslag på ukrainsk TV om Olena Leonovas That Crazed Girl.
---