(Läsningstid:
4
minuter)
För ungefär två år sedan var jag, och många andra, mycket engagerade för Nadija Savtjenko. Hon satt, som ni kanske minns, fängslad i Ryssland. En farsartad rättegång gjorde ärendet känt över hela världen. Hon blev en symbol för de politiska fångar som fängslats av Putin regimen.
Redan vid rättegången blev det tydligt att Savtjenko var en eldig person. Hon inledde flertalet hungerstrejker och hennes brev från fängelset var svavelosande tirader mot det ryska rättsväsendet och Putins agerande. Det var helt klart att hon var en svårbemästrad person. Men det var en självklarhet att stå bakom henne, hon var ju en politisk fånge i ett allt mer totalitärt Ryssland.
När hon sedan kom till Ukraina och intog sin plats i det ukrainska parlamentet, Verchovna Rada, så blev det mer och mer tydligt att hon var en vilde på många sätt och vis.
Det finns mycket att säga om hennes s.k. politiska gärning, men jag kommer inte lägga något krut på det. Det jag vill delge idag är ett klart och tydligt avståndstagande från henne.
Orsaken? Jo, det är hennes senaste utspel, där hon kommit ut som en tvättäkta antisemit. Nedan kan ni läsa ett citat av Kostya Tchourine, aktivist från New York, med ryska rötter, som engagerade sig bland annat för frisläppandet av Nadja Savtjenko. Jag håller nämligen med honom i varje andetag. Jag är också omåttligt besviken på henne, och undrar varför jag kämpade så för henne. Jag ångrar inte att jag stod upp för de politiska fångarna i Ryssland. Det var rätt, och det är inte något jag tänker sluta med. Men Nadja Savtjenko, nej, hon får klara sig utan mitt stöd och förståelse.
Up until now, I was willing to excuse Nadiya's questionable statements and write them off as due to her hard life, struggling with PTSD [Posttraumatic stress disorder], etc., but it turns out that Savchenko is a typical anti-Semite.

First, answering a question about a "Jewish yoke" ("yoke" meaning "occupation", like in Tatar-Mongol Yoke) that Ukraine is allegedly under today, Nadiya announces on live television: "if this is what the people/masses say, then they are telling the truth" and adds: "And yes, if we look at the people in power in our country today, their blood is indeed not Ukrainian, so to speak. We can talk about it, but what can we do about it? We need to think and act!" ( http://censor.net.ua/v432901 )

Later, she does a public apology:
"I have nothing against Jews. But I don't like kikes. […] One can hardly call Ukraine an anti-Semitic country – we have 2% of Jews, who hold 80% of positions in power."
Yes, she claims that she is not an anti-Semite, and that anti-Semitism does not and cannot exist in Ukraine, she says in the same video that with Jews and kikes it's the same as with Russians and "katsaps" or Ukrainians and "khokhols" (derogatory terms for Russian and Ukrainian, respectively). At the same time, she confirms on national TV that Ukraine is under a "Jewish yoke", and during her explanation, she even repeats the conspiracy theory, that 80% of people in power are Jews (and hiding it), that Poroshenko in particular is Jewish, even though "Jews themselves would say that none of them" (are in power).

If she believes all of this, based on the argument that "if this is what the people say, then they are telling the truth", then either she is an anti-Semite, she is not very bright, or she is the voice of a society that is once again, for the nth time in history, developing a problem with anti-Semitism.

Nadiya – goodbye. I don't regret the protests against Putin and in support of political prisoners, but I regret the time and effort I have wasted specifically on Savchenko.
Kostya Tchourine: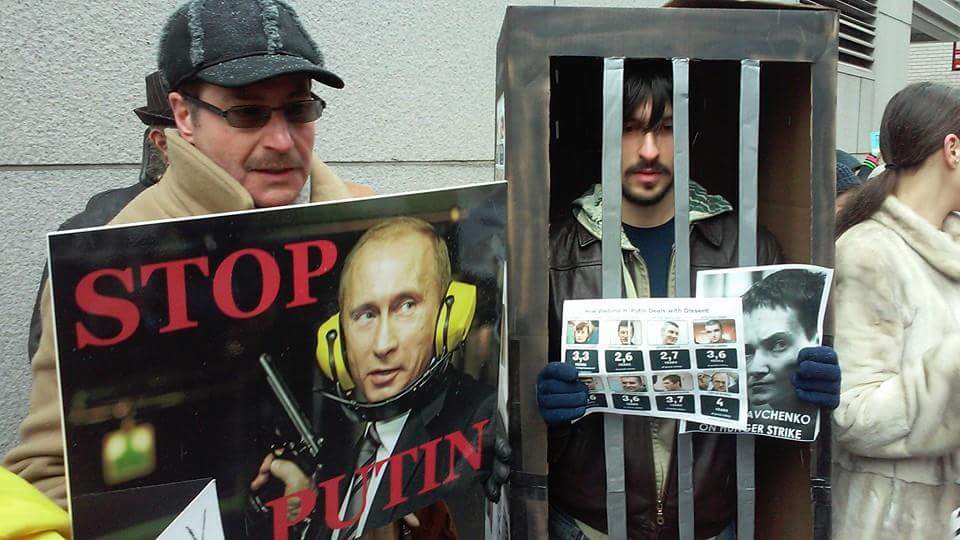 Kostya Tchourine, bakom galler, vid demonstrationen "STRATEGY 6 – in New York. Freedom to political prisoners in Russia" till stöd för de politiska fångarna i Ryssland. Med tillstånd från Kostya Tchourine.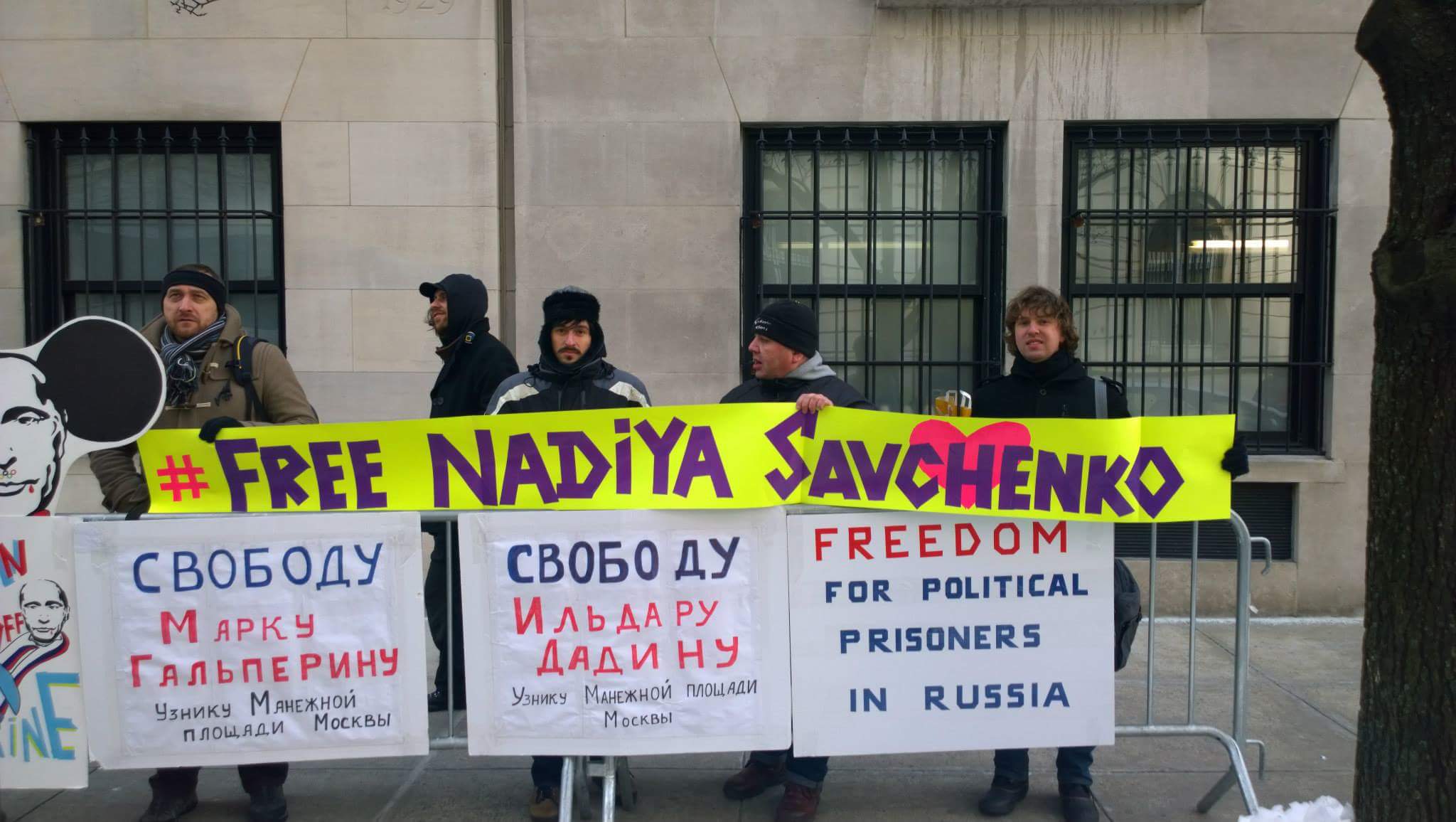 Från "STRATEGY 6 – in New York. Freedom to political prisoners in Russia". Med tillstånd från Kostya Tchourine.
---