(Läsningstid:
5
minuter)
During my stay in Moscow last month, I one night ended up looking at Russian TV at a friends places. My friend and her old mother was zapping through the channels and ending up at the news. While we was sitting there consuming the information (or whatever the TV viewer are expected to do) I started to feel physically sick. Since I never look at TV in Sweden I am probably rather sensitive towards what I see. At first I thought it was because I had too much tasty food to eat, but rather quick I understood it was the news in the box infront of me that was the course of my sickness. And why did I feel like that? Well, it was not the actual news. They look the same as they always have in Russia, so this did not upset me (enough, I should add).
No, it was an other unpleasant aftertaste I could feel. During the 30 minutes or 45 minutes news show there where not even one woman speaking. I could see women crying or walking in the background of some guy being interviewed, but not even one woman had a voice. Coming from a country where the newsrooms and editorial work have, may be not great, but at least an awareness how important representation and diversity actually are, I felt like I was pushed back to some kind of Medieval landscape just in one blow. It is true that women's representation in Russia in, for instance, the Parliament, sucks but this was just too much! (Check the statistics at Wikigender.) And I might alos add that this is a rather unpleasant change since all my previous stays in Moscow and Russia. I felt an urge to talk to a feminist that could put some light on how it became like this.
I was lucky. The day after I had a meeting with one of the most prominent feminists in Moscow, Nadezhda Azhgikhina, journalist, literary critic, and executive secretary at Russian Union of Journalists. I asked her why women have vanished from Russian TV and why I can't hear or read any protests. Nadezhda implies that most bosses or executive bosses are men, so basically the newsrooms or editorial are stuck with those. But when it comes to why TV news shows almost no women Nadezhda has a very interesting theory. She denotes that Russian TV should be regarded a theatre play. This play has as a purpose in trying to fool the viewer into believing that the government actually is in charge and can handle all occurring problems in the society.
– Men doesn't show fear and are therefor regarded as the most effective power. So by excluding all women, they try create the picture that Russia is the strongest and best country in the world.
The second part of her theory is that she implies that TV, including all other media, do not want to promote the idea that there exists any gender problems in Russia of today. One explanation could be that it just don't sell. The younger generations have not interest in feminism or gender issues, basically because they do not want to be influenced by "old" values. By "old" she denotes feminist values from 1990's and during the Post Soviet Era. The feminist movement back then was very strong, but has drastically declined and today there are almost no feminist movement, she implies.
However, during the 90's the feminist movement managed to create a good and stable network among those that are working with the questions.
But even so, I urge, while looking at Russia today I can only see stagnated stereotypes and mostly values promoting, for example, macho-masculinities and sticky sexisms when it comes to feminities. From my perspective Russia gender situation appears to be more conservative and obsolete than ever. I point at Ukraine and FEMEN and ask Nadezdha why we can't see any reactions like that in Russia. Her answer actually surprises me. She claims that Ukraine is 10 years behind Russia., and that Ukraine's radical feminist movement will also languish away. Her rather fatalistic attitude scares me, however she can be right. In Sweden we have had several strong feministic movements that have subsided. While Russia had a strong feminist during the 90's, Sweden and many other countries, for instance USA, had a rather heavy backlash on feminists issues. From some perspective I would say that Sweden has never really recovered from that backlash.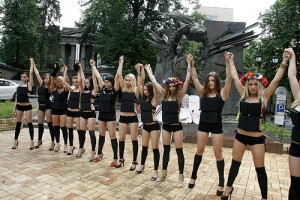 FEMEN dressed as policemen protesting against the limitation of democratic liberties and freedom of the press during the first hundred days of Viktor Yanukovych's presidency commemorated today.
The question we should ask ourself is perhaps how feminism can survive between every intervals of activity. What will for instance happen with an organization such as FEMEN when Ukrainian media has lost their interest in them? What plans do they have to survive the situation? After my meeting with Nadezdha I strongly feel that this is perhaps one of the weakest points of all feminist movements around the world. (And all other activism, I suppose.) When media turns their heads in other directions, too many feminists activists vanishes from the scene. How come? Not all feminists are exhibitionists for sure!!
But hopefully social media could play an important and different role for making campaigns to survive longer. FEMEN has been able to create their own media flow, with twitter, flickr etc etc. And I do hope that they have the strength to go on, even after the Ukrainian establishment has recovered from the chock that FEMEN (still) creates.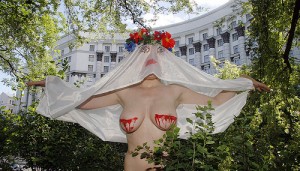 From FEMEN's last campaign "Bloody tits"
---