Category: by sophie engström, music, russia
Tags: Ad Bourk, Busy P, Dj Zink, dza, Flying Lotus, hip-hop, Homeless Inc., how2make, Hudson Mohawke, Los Macuanos, Marco Passarani, Nando Pro, rbma, red bull music academy, Roots Manuva, russia
(Läsningstid:
2
minuter)
The annual Red Bull Music Academy in London has just finished and one of the participants was Sasha Dza, the how2make frontier that previously been highlighted here at viewpoint-east.org. So I connected to him, in London, to ask about impressions from the two weeks long experience at RBMA.
Dza – † Dance With Me ( preview ) by DZA
Sasha Dza: RBMA is a really heavy and nice experience for all participants. Every time, when I'd meet some one who has been a participant at RBMA before, they have told me to remember only one thing, Get a lot of sleep before academy! Because while you are there you will not get any sleep in two weeks!. And that was really true! Every day implies intensive studio work, lectures and live chatin' with famous musicians like Hudson Mohawke, Roots Manuva, Busy P, Dj Zink, Marco Passarani, FlyLo (Flying Lotus) and many more.
It was also very cool to collaborated with another participants, such as Ad Bourk, Homeless Inc., Los Macuanos, Nando Pro and Hudson Mohawke. This guys gave me crazy energy and new inspiration!
RBMA has finished last week, but I have stayed in London for a few day to enjoy new places, museums and people.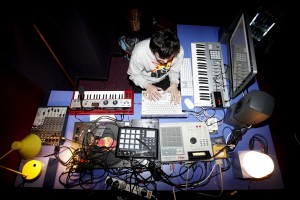 Photo: Dan Wilton
---