(Läsningstid:
6
minuter)
Where is Western Ukraine in the new political order? You could be forgiven for thinking it had disappeared from the map altogether. The new President has put a Russian in charge of the country, and set out on a course coherent with restoring Ukraine's place to that of the 'little Russia' which had for the past 19 years existed only the minds of out-of-touch, chauvinistic Muscovites. Western Ukraine is now a marginalised and, some would argue, despised frontier province with nothing to offer the new order. It may even now, some might suppose, become the 'enemy' on which the need for 'stability' (meaning authoritarianism) is sold to the people, in the way that Russia scapegoats the clearly terrifying Estonia and Georgia (and up until now Ukraine) as reasons to stick to 'strong government'. Egg-throwing and rostrum-blocking in parliament does little to dispel these insinuations.
If the new order is to persist, it poses questions to the west of the country that have never before been so prescient. Independent Ukraine was born of what one might call an unholy alliance between the communists of the east and the nationalists of the west. For many years this grand bargain carried benefits as well as disadvantages for both sides. Whilst an eastern-based business mafia held sway over the country's industry and economy, a kind of 'cultural mafia' advanced a linguistic and cultural agenda that more favoured the west of the country. This grand bargain is now breaking up. Some would say this breaking up was started in the Yushchenko era. Others might contend that it is now, under Yanukovych, that one side of the country feels most disenfranchised. What is clear is that nothing is now being done with the aim of enhancing national unity. Instead of an over-arching, inclusive, reform-minded government under a prime minister such as Tigipko which the most optimistic might have hoped for, the new President has opted for a Russo-centric position. It is difficult to see how divisive appointments such as Tabachnyk can be considered necessary pragmatism. The idea that in the country that suffered the Holodomor children might in the very near future be opening textbooks that state that Stalin was a 'strong leader who made tough decisions for Russia' is going to be most sickening to those in the west.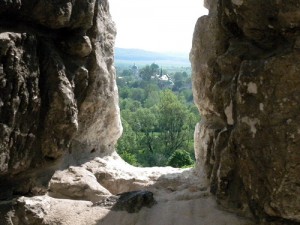 Oleskiy Palace. Photo by Em and Ernie
Part of Western Ukraine's problem is that the figures they have backed in the past have in fact served the region's wider interests very poorly. Although large numbers turned out in the presidential second round to support Tymoshenko, there seemed little to recommend her, apart from that she wasn't Yanukovych. The orange politicians who wrap themselves in Ukrainian patriotism in fact have interests much closer to the centre. At the other extreme, Ukrainian nationalist or patriotic parties can be seen as somewhat eccentric, perhaps extremist, in any case for many people not truly electable. Western Ukraine is clearly different to the rest of the country, culturally and linguistically and in its aspirations. These differences are only being exacerbated in the current circumstances. Western Ukrainians themselves need to start thinking about how to empower themselves against the current unenviable odds. A lot will depend on what sort of system emerges over the next couple of years.
If the current semi-parliamentary system persists, the west might look at its options modelled on regional/cultural political blocks in other European countries. In Italy, the Northern League sheds any illusions that it is a party of national consensus, and seeks to represent its regional interest within the country, where it feels under-represented. In Romania and Slovakia, the Hungarian minority is represented by Hungarian coalition parties. These coalition parties host within them a diverse set of views, from moderates to nationalists, but who manage to agree on over-arching concerns, and lobby for concessions in these areas, frequently as kingmakers in coalitions. Strong patriots might feel a need to prioritise issues such as UPA recognition, but in reality, forsaking the bigger issues over such matters does little to help the next generation. Even the People's Self Defence block, which is an attempt at coalition party building, does not have a broad enough appeal. As the Conservatives in the UK who are learning coalition politics from scratch now realise, one has to look at the big picture. The over-arching issues for Western Ukrainians are obvious: education and language, relations with Europe and the need for a credible economic development policy for the region. So a kind of 'Western Coalition' could be the answer.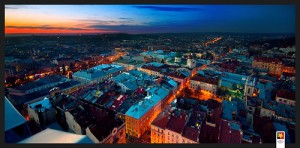 Lviv. Photo by Lyncis
However, we face the real prospect that the 2012 parliamentary elections may mean very little. Even if they are free and fair, including access of all political groupings to the media, the acquisition of 'tushki' might allow the powers that be to 'tidy up' any slightly messy outcome to the vote. Or who is to say at the moment that these elections won't go the way of the currently delayed local elections? If this election finishes with the west of the country having no voice, thoughts will inevitably turn to the idea of secession. A strategy for independence would then need some serious thought. If there is a clear sentiment in favour of the idea, unofficial polls might be conducted, perhaps modelled on the unofficial pro-independence referendums that have been taking place across Catalonia.
Independence would have many advantages. Patriotic Western Ukraine would have the over-arching unity of purpose that has benefited the likes of Hungary and Poland. The overseas diaspora would be able to assist in the kinds of ways they were in Estonia, for example. Also, with suggestions that Moldova might just sneak into the EU because 'it's small' (a lame criteria perhaps, but it is how many in Brussels seem to think) perhaps the EU will be able to stomach a bite-size Ukraine of, say, 7-10 million people rather than 46 million, a good chunk of whom it can be argued don't even want to be there. A small ship is easier to turn. Observe how previously backsliding Slovakia leapfrogged its neighbours to join the Euro.
This may all of course be pie in the sky. Secession is difficult to achieve from any country. However, if aggravations produce policy concessions rather than independence, this may in itself be valuable enough, and would be preferable to marginalisation. Against this however there is the question of the west-looking centre of Ukraine. They might be the next to be marginalised.
Perhaps a separatist approach is not the best way forward at a time when a united opposition is most crucial, but nonetheless Western Ukraine needs to think very carefully before persisting with politicians who talk the talk, but in fact have little interest in the region. There is a grave danger of Western Ukrainians continuing to throw away their votes to minigarchs, thugs and tushki, and it is perhaps time that, as a united front, the region acts for itself. In any case, if the coming years prove to be difficult, a distinction may develop between those who understand and defend their civil and democratic rights, and those who are prepared to allow their freedoms to be compromised for the 'greater good'.
Of course, the best scenario is not independence for Western Ukraine but for the entire country to be anchored into the EU accession process which helps to foster civil rights, democracy and economic reform for the country as a whole, and which would put pay to many of the worries that currently exist. It is only in the complete absence of a membership perspective for Ukraine that worries about where Ukraine is drifting have become all too real, and hence the need to possibly take a look at some radical alternative scenarios. The alternative of wait and see could be very costly.
To take the analogy of Belgium, another European country that is frequently described as divided, a few decades ago the French-speaking south dominated industrially and culturally, whilst the Dutch-speaking north was poorer. A few years on it is now the north that is in the ascendency with its new industries, with the once proud south a decaying rustbelt. Steel and coalmining are yesterday's industries, light manufacturing, services and tourism are tomorrow's, and it is Western Ukraine that is best placed to grasp this opportunity, if it is allowed to.
This has previously been published at Chicken in Kiev (or) Kiev Rus
---