(Läsningstid:
10
minuter)
A couple of women is busy raking up the dry grass. The sun shines mercilessly. A few men lie under a nearby tree and observe the women. One of the men, a young guy still, gets up and suggests his comrades to help the women. "No", say the other men, "let's not waste our energy. Because, in case there will be war tomorrow we should be fit. Let the women do the daily work".
This Ukrainian anecdote already exists a bit longer, but is nowadays still topical. The general conception assumes women to be good (house)wives, men are involved in public life and earn the family's living. In this article it will be discussed which consequence such conservative stereotypes could have on mutual man-woman relationships and how potential negative consequences could be investigated. The importance, therefore, of solidarity amongst women will get extra attention.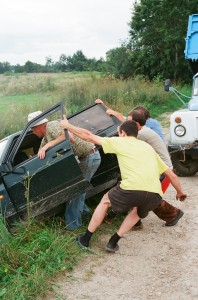 Within Ukraine, many traditional role patterns that strongly define the daily interaction between human beings are anchored. Some stereotypes (see frame) are conservative by nature and deal with man-woman relationships (gender, see frame). These stereotypes are not only vivid amongst people in cities and villages, but also within official institutions and in legislation and regulations. For instance, single fathers – unlike single mothers – do not get holiday subsidy for their children and women get less salary than their male colleagues for the same job. These stereotypes result in the fact that gender relationships within Ukraine are unequal. This is an unhealthy situation through which the freedom of movement and the potentials of women and men are being limited. This situation, for instance, often leads to violence against women and to women in leading positions. This is unacceptable from the human rights point of view and hinders economic and political development.
A Few Facts
In gender statistics Ukraine scores badly: it ranks 63 on the Gender Empowerment Measurement (GEM), measured from 75 countries. That means that awareness and development of women empowerment (the ability to participate in social and economic development) can be much improved. Also the UN committee of the Convention on the Elimination of All Forms of Discrimination (CEDAW) in its recommendations for Ukraine criticizes the fact that traditional gender stereotypes are still strongly present within the family and society, education, media and towards vulnerable groups in society. These stereotypes are the main cause that women continue to be in a disadvantaged position, amongst others in politics and at the labour market. The NGO (non-governmental organisation) Women's Consortium from Kyiv, in cooperation with 22 other NGOs, shows that Ukraine invested much in gender legislation and regulations (for instance since 2006 there exists a law with regard to gender equality), but undertakes too little to implement those. The NGO Women's Perspectives in L'viv, too, criticizes the stubborn existence of stereotypes. "Women should be seen as human beings with character and possibilities, not as women only", says Director Luba Maksimovych.
Between City and Village and East and West
So, a lot of attention is being given to institutions such as government, media and education, but relatively little to changes needed in companies and the church. But even the NGOs that critically report on such issues are not able to reach out to all layers of society (such as women of minority groups). Amongst others because they themselves come from a certain, mostly academic, layer of society. Researcher Alisa Tolstokorova states that women and gender NGOs should at least disseminate a clearer message to counteract the question posed: what is harmful of conservative gender stereotypes? But first of all focus should be on mechanisms of social processes that cause conservative stereotypes or strengthen them. And when doing so, is there a difference between city and countryside and East and West Ukraine?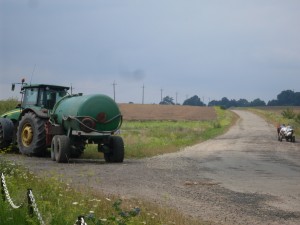 According to research conducted by Women's Consortium amongst Ukrainian inhabitants, 81.8% of the respondents acknowledged to experience a constant or regular expression of stereotypes. Herewith it is not being said that this is considered by the respondents as problematic, but do people know enough about what gender stereotypes are? Within cities, information and knowledge is probably much better available than in the countryside, due to media coverage, access to internet and tourism. And, "within villages social control is stronger than in urban areas", says Gender coordinator Olena Suslova. "Do you have guests, what will you prepare for them, do you have enough eggs? are frequently heard questions. A woman driving the tractor, who goes running or carries heavy things (except the shopping bag) is rather unusual. A man changing nappies as well. But eventually the same stereotypes can be found in urban areas and the countryside. Both men and women maintain them.
"Not only the difference between urban areas and countryside, but also the differences between geographic East and West Ukraine bring along different gender perspectives", asserts Alisa. Due to its history (only since 1944 joining the Soviet Union whereas the East joined already at the end of the 18th century) the West has experienced a stronger (Catholic) religious development. This counts less for the East and if so, most of the population is orthodox. Contemporary Western Ukraine for instance knows a strong religious movement in which unequal gender relationships are predominantly present. On the other hand, though, many women from the western part of Ukraine who work in the EU bring home other gender ideas. The eastern part of Ukraine instead seems to hold on to more liberal interpretations of gender relationships. However, according to Olena "We have to wait and see what happens now that Yanukovych is in at the helm". He is associated with the (Russian) orthodox church which also holds on to conservative interpretations of gender relationships. Director Maria Alekseyenko from Women's Consortium agrees: "The orthodox church does not recognise problems that occur as a consequence of unequal gender relationships".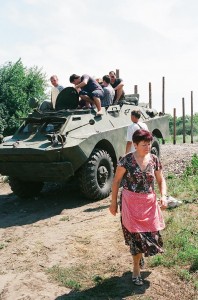 Together We Stand Strong?
In order to achieve equal gender roles it is for instance required that women show solidarity amongst themselves. People should be able to let go traditional images and feel strengthened in a yet abstract and collective ideology. "Solidarity is to support each other in word and deed in case of difficulties and ideas", says Luba. So far it seems that various forms of solidarity amongst women in Ukraine mainly add to keep conservative stereotypes in place instead of dismantling them. That is because women help each other with typical women's issues and frown when something unusual is being done. A few arguments can be given that help to explain that.
Firstly, amongst inhabitants from cities and countryside there is a lack of clear understanding of gender stereotypes and the potential negative consequences of those. Education, church, government, NGOs and other institutions still have to take a great step forward in discussing existing conservative stereotypes and that they have a negative impact on society. Gender problems are being seen as women's problems and thus women's emancipation is being seen as its solution. That is a good first step forward, but mainly emphasizes the differences. Women and men should jointly take a step forward.
Secondly, the problem lies partially at a higher level: the lack of a shared national identity. "An ideological vacuum", as Alisa calls it, causes that there is a lack of proper gender role models. She firstly sees a responsibility for scientists to develop such role models and give direction to the discussion.
Thirdly, it is due to the heritage of decades-long collectivism. Within these times people used to live in terms of community, but everyone with a certain caution, and to distinguish from the existing role patterns was suspicious. It is therefore difficult in contemporary Ukraine to feel solidarity with strangers only on the basis of a shared situation or position with regard to women's rights or unequal gender roles. And even though a first step towards women's emancipation has been made, empowerment still has to start.
Fourthly, the difficulty to join institutions such as networks and organisations. This idea is confirmed by a friend in L'viv: she knows quite some women that combine a (starting) career with taking care for their families, but an institutional network in which such women support each other is hardly existing. It still depends on the individual search for options and resist critical remarks. Also women that return home after some years of migrant labour experience difficulties – "alienation from the family, difficulties to implement renewed gender ideas", says Alisa. However, according to Luba there lies great potency with returning women as so-called change agents. "They are in the position to stimulate that more women take positions in companies and at leading political posts". However, this might too easily skip the fact that these women also strongly compete with each other on the tight labour market (talking about sisterhood is too farfetched, according to Alisa) and fall back in unchanged social structures of family and society. And, in what sense do Ukrainian women that have married a foreign man really have the opportunity to strive for equal gender relationships? The existing image is that men choose a woman in depending position, which is different from the often self-conscious Western women who no longer accept stereotypical gender roles.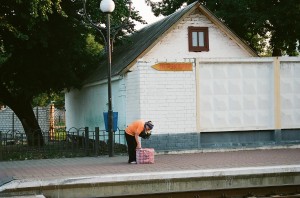 Also in Ukraine, the road to break through conservative gender stereotypes and to reach equal gender relationships is still a long one. The basis for change is recognising the problem of conservative gender stereotypes and the required solidarity amongst women in need of change. Not with the intention to emphasize the differences between men and women even more, but to achieve solidarity with people that aim to live a life that is pleasant for them and does not unnecessarily harm others. Standard views on how others have to live and behave will have to be challenged strongly.
•••••
With thanks to Caecilia J. van Peski, Maria Alekseyenko, Luba Maksimovych, Alisa Tolstokorova, Olena Suslova and Olenka Grencheshen.
PS: a critical note with regard to the formation of this article is that I have talked with various persons, men and women, about gender relationships. These are persons that I meet in daily life. On the other hand I have interviewed a few persons that are involved with gender issues from a professional point of view. Not entirely coincidentally these are only women. A next article will profit when adding more active statements of both men and women.
PS: about the author: Tilia lives in Ukraine since July 2009, near L'viv. She helps a centre for disabled children in L'viv, Dzherelo, with issues of management and communication. Her partner is an organic farmer. Within the Netherlands Tilia worked for Cordaid (one of the large development cooperation organisations) as a project manager on themes of women and minority issues in India and Afghanistan.
Cadre – Conservative Stereotypes
Stereotypes are predefined images or characteristics. We need positive stereotypes as role models, conservative stereotypes are undesirable. Conservative stereotypes with regard to women in Ukraine are for instance as wives, mother, attractive, caring house woman, social networker, doubtful. Men as generating income, manager, intelligent and decision-making. Women as thorough, rational persons and as a manager are images that not frequently are associated with women. And if so, then on a second place (2008 Women's Consortium).
The same counts for men: caring, sensitive or doubting are no conventional character images. Such stereotypes continue to exist due to the contemporary education system, few gender specific legislation and regulations and an instable political and economic situation (it is then generally more likely to rely on existing social patterns) (2008 Women's Consortium).
Cadre – Gender
Gender can be seen as "…How women and men are perceived and expected to think and act in a particular political and cultural context" (Angrita 2000 in Makkonen 2002:3). Gender is a collective concept of expectations, roles, patterns, etc. and the consequences that concept might have for the interaction between men and women.
Sources
Makkonen, T., 2002. Multiple, compound and intersectional discrimination: bringing the experiences of the most marginalised to the fore. Institute For Human Rights, Åbo Akademi University, Turku.
Marth, D. and A. Priebe, 2010. Mühen der Ebene « contra » Glamour-Feminismus. Die gegenwärtige Debatte um Frauenbilder und Geschlechtergerechtigkeit. Ukraine Analyse no.77, 20100622.
Tolstokorova, A., 2010. Where have all the mothers gone? The gendered effect of labour migration and transnationalism on the institution of parenthood in Ukraine. Anthropology of East Europe Review. Vol. 28(1) Spring 2010.
UN CEDAW. 2010. Concluding observations of the Committee on the Elimination of Discrimination against Women: Ukraine. 20100205
Women's Consortium. 2008. Alternative report. On the implementation of the UN Convention on the Elimination of all forms of Discrimination against Women in Ukraine. Women's Consortium, Kyiv.
www.gendermatters.se Augustus 2010
Email contact with NGO Women's Consortium (Kyiv). 20100613
Personal communication with NGO Women's Perspectives (L'viv). 20100803
Telephone conversation with Olena Suslova, Chair of the Women's Information Consultative Centre, (Kyiv). 20100806
Telephone conversation with Alisa Tolstokorova, independent Gender Expert, (Kyiv). 20100806
•••••••
Tilia Maas Geesteranus (Essay and Photos) lives in Ukraine since July 2009, near L'viv. She helps the organisation Dzherelo in L'viv (a rehab centre for children with disabilities) with management, communication and Montessori project. Her boyfriend is an organic farmer south from L'viv, growing potatoes, grains and buckwheat. They live on the countryside and enjoy coffee on the balcony, strolling through the fields and along the river and practicing their Ukrainian with the neigbours. She occasionally tours tourists through L'viv or to the countryside.
Tilia holds a Master in International Developmentstudies (2007, Wageningen University) and in Advanced Developmentstudies (2008, CIDIN, Radboud University Nijmegen). At Cordaid (development organisation in The Hague) she worked as a Project Officer on theme's of women and minority groups, in India and Afghanistan, and on domestic violence within the Netherlands. Since living in Ukraine she tries to continue being involved with women and gender issues.
---