(Läsningstid:
2
minuter)
Lvivs filharmoni, 30 september 2014. Kl. 19
Ett förväntansfullt sorl dominerar i konsertlokalen. Vi är alla där för att under två timmar få hänge oss åt och lyssna till Giya Kanchelis verk. Vi ska för höra "Mourned by the Wind, liturgy for viola and orchestra"(här översatt till cello) samt Symfoni nr. 7.
Kanchelis musik är bygger på de starka kontrasterna. Ett första anslag på flygeln får nästan fridfullt kling ut, innan solisten tar ton. I nästa minut förflyttas den trygga förvissningen om lugn, till ett aggressivt kaos.
Kanchelis musik är de förtrycktas musik. Det är musik till dem som aldrig ger upp, men som aldrig kan resa sig fullt upp. De som har kuvad rygg, men stor rakt i själen. Varje rörelse mot en frihet bryts av med en våldsam kraft. Lycka ställs mot sorg. Vrede ställs mot glädje. Skönhet bryts ner, förmultnar, smulas sönder av oro.
Kanchelis musik är för oss som inte kan se en vacker blomma utan att tänka på dess död. Men den är också för oss som inte kan låta bli att tänka på återkomst efter förödelse. Kanske är hans musik för oss som är galna. Galna nog att tro att musik kan förändra världen. Förändra förloppet.
När de sista tonerna klingar ut, låter vi tystnaden råda. Gränsen mellan Kanchelis värld och den utanför. Kancheli själv reser sig från sin stol. Bärs av applåderna upp på scenen. Alla vet vad han gett oss. Tron på oss. Att vi med vår kraft ändå kan förändra och smula sönder ett förtryck. Vårt löfte till Kancheli måste bli att vi aldrig låter oss kuvas. Det är vi honom skyldig.
För Kanchelis musik är också berättelsen om att göra sig fri. Fri från de krafter som förgör.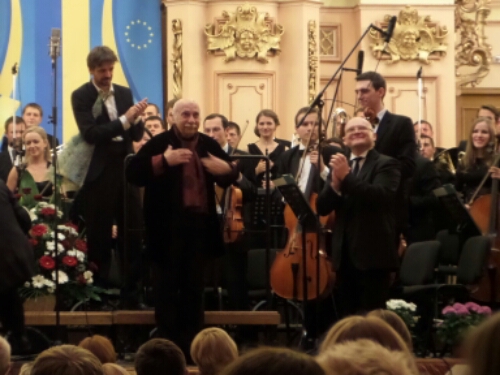 Mourned by the Wind, liturgy for viola and orchestra

Symfoni nr. 7