(Läsningstid:
3
minuter)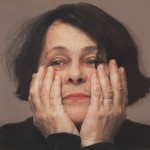 Melody for a Street Organ (2009) by Kira Muratova compensates for the 20 years-long absence of social cinema in Ukraine in a strikingly unexpected way. To capture the social reality of Ukrainian society is not an easy task, since, like any other post-Soviet society, it avoids a direct look at its basic manifestations (like marginalization of large social segments and dissolution of interpersonal links) by rendering them invisible for the mass media apparatuses. In order to assemble the mosaic of unrepresented society, Muratova has chosen the vantage point that is generally repressed in contemporary Ukraine. Her latest film is set in public spaces where taking pictures is usually prohibited for reasons that are neither explained nor questioned, in spite of availability of those spaces for the general public: the train station and the supermarket.
The first part of the film follows a couple of homeless kids through a railway station, where they are confronted with a series of unfavourable circumstances, while the second part takes them to a supermarket, where the penniless protagonists, hallucinating from hunger, are trying to get some food. Still, those areas – the railway station and the supermarket – are only seemingly excluded from democratic representation, since they are subjected to numerous surveillance apparatuses that not only passively collect information but also actively constitute the social relations at the observed territory, producing the subjectivities of those under surveillance. By entering this domain of monopolized representation with her camera, Muratova gets an opportunity to spy at the members of contemporary society reduced to their purely functional, mechanical identities – those of the train passengers or supermarket clients.
This reduction is obvious in numerous film scenes where the kids appeal to occasional strangers with a cry for help only to get a standardized, artificial, 'cinematic' reaction from the people who cannot transcend their prescribed social roles. In a crucial episode of the film, the kids occasionally witness the extrinsic child beggar telling their own numerously repeated story verbatim to a stranger and getting a generous reward. The shock that children experience in the course of the scene is quite similar to a shock of the viewer confronted with Muratova's numerous episodic characters that despite of their constructed, unnatural behaviour (or, maybe, precisely owing to these features) are strikingly recognizable in their representation of post-Soviet social identities. Rather than reproduce "reality as it is", Muratova focuses on fiction underlying the reality itself, a fiction that is deconstructed from an 'impossible' viewpoint of the camera sneaking after the people who unconsciously perform their prescribed identities.
Oleksiy Radynski is an essayist, editor and scholar of film theory. He is a postgraduate student at the National University of Kyiv-Mohyla Academy and collaborator at Visual Culture Research Center at the same university.