(Läsningstid:
4
minuter)
When I was in Kyiv last I met some of the founders of the paper Konoplyana pravda. I was so fascinated by their project, so I decided to ask them some questions. Here is the answers from Zhenja Matirka, Sergio Azenberg and Taras Ratushniy. Enjoy!
How did it all start? When and who decided to start to make a paper?
We have every year during the Global Marijuana March (GMM) action in Ukraine tried to make a "paper appeal", a kind of annual newspaper (but a bit unusual one, black and white made by RISO) with facts that one can not normally find in ordinary media . So the "start" was many years ago. Then we learned experiences from our close neighbors (from PL and CZ) also working with GMM in their capitals and their printed medias "Spliff" and "Konopticum" were convinced. That was our dream – a real (and legal) newspaper with real (and also legal) ADs. They had shown us how to realize our main goal, how to legalize ourself. So we started to work with our local crews, found the first advertisers and less then in 3 months our pilot, our first issue, was done.   
Could you describe the procedure? Like, how did you work together? Who did what, or likewise.
Hehe… During our work with the plot it was a real secret for everyone who exactly was responsible for what during the process. Konopljana Pravda has a virtual editorium – half of us has never met one another personally. Just nicks and short info in the google group. Graphic designer was sitting in Khmelnitski region, cartoonist in Vinnitsa, corrector in Minsk (BY) and also some of us were sitting in Kiev, Dnieoropetrovsk, even in India (like Dmitri Gaiduk, our editor). There was just one time we were working together in one room – four notebooks at one kitchen table. We'll attach the photo : )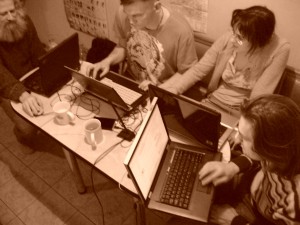 From where do you get your inspiration?
We get the inspiration from our readers. We are happy while they're satisfied. We try to answer every e-mail and to publish the most interesting e-mails.
How do you survive economically? From sponsors or donations? Or both?
After working with i. ex. Global Marijuana March (GMM) for years, on our own expense, we don't trust donors. Our project is therefor strictly commercial, we have ads. In our pilot the ads did look almost like sponsorship. That was because it was hard to be serious and to ask customers "We're going to print newspaper in Ukraine? (Do you even know where's it, Ukraine?) So do you want to buy some pages". It was almost like selling air.
But when people saw our paper they called and mailed from all over Ukraine, and a lot of ad costumers said "Ok, we'd like to have a contract". And a matter a fact, several new companies appears in every issue of "Konoplyana pravda".     
Is the paper for free or people need to pay for it? Where can you find it? In Kyiv only? How do you solve distribution inside Ukraine?
Konoplyana pravda is for free. It can be found in smart-shops, bicycle- and roller clubs and on private parties. It is distributed by activist all over Ukraine – in Kiev, Dnipropetrovsk, Odessa, Lviv, Donetsk, and other major cities.
How many readers do you have today? How many would you like to have?
Our current issue is 7.000 but there are at least 3 readers fo every copy of the newspaper. So, we think that about 20 000-25 000 people read it each month.
Do you believe that it is possible to legalize cannabis in Ukraine?
We prefer not to discuss the question of legalization. Firstly because everyone discussing it implies different things. Our standpoint is that the Ukrainian society needs to change its idea about cannabis. It's not a black or white issue in reality. And after the experts discussion we have to establish the State Policy over the alcohol, tobacco and other drugs.
---