(Läsningstid:
4
minuter)
Vi är en skara förväntningsfulla människor som har samlats utanför Musikaliska akademin i Lviv. Klockan är strax efter nio på kvällen, och vi vet att det är försenat. Det vi väntar på. Men det hindrar inte vår entusiasm och munterhet.
Plötsligt syns kompositören och arrangören Ostap Manuljaks vänliga ansikte i entrédörren till akademin.
– Ursäkta förseningen, ropar han med glad stämma. Men vi råkade ut för lite tekniska problem.
Vi skattar alla, för vi förstår ju att även ett litet tekniskt problem skulle kunna sabotera kvällens konsert. Vi ska enligt rykten få ta del av ett ukrainsk-polsk samarbete som resulterat i en ljudpromenad genom akademins korridorer. Det är ju alltid svårt att föreställa sig en konsert innan man hört den, så spänningen är på topp.
När vi kommer in i foajén hör vi ett avlägset muller. Ett otåligt brus som gradvis stegras. Det är mörkt. Endast några få ljuskällor. Vi är tysta. Håller oss tätt till varandra. En gemenskap uppstår.
Vi ser några små lampor. Och de visar sig vara kvällens huvudaktörer. De är ljudgenerande, och känsliga för olika saker, så som ljus, rörelse, ljud. Någon är fäst vid en gammal engångsmugg fylld med kaffe. En annan på en blomma. Någon ligger utslängd på golvet.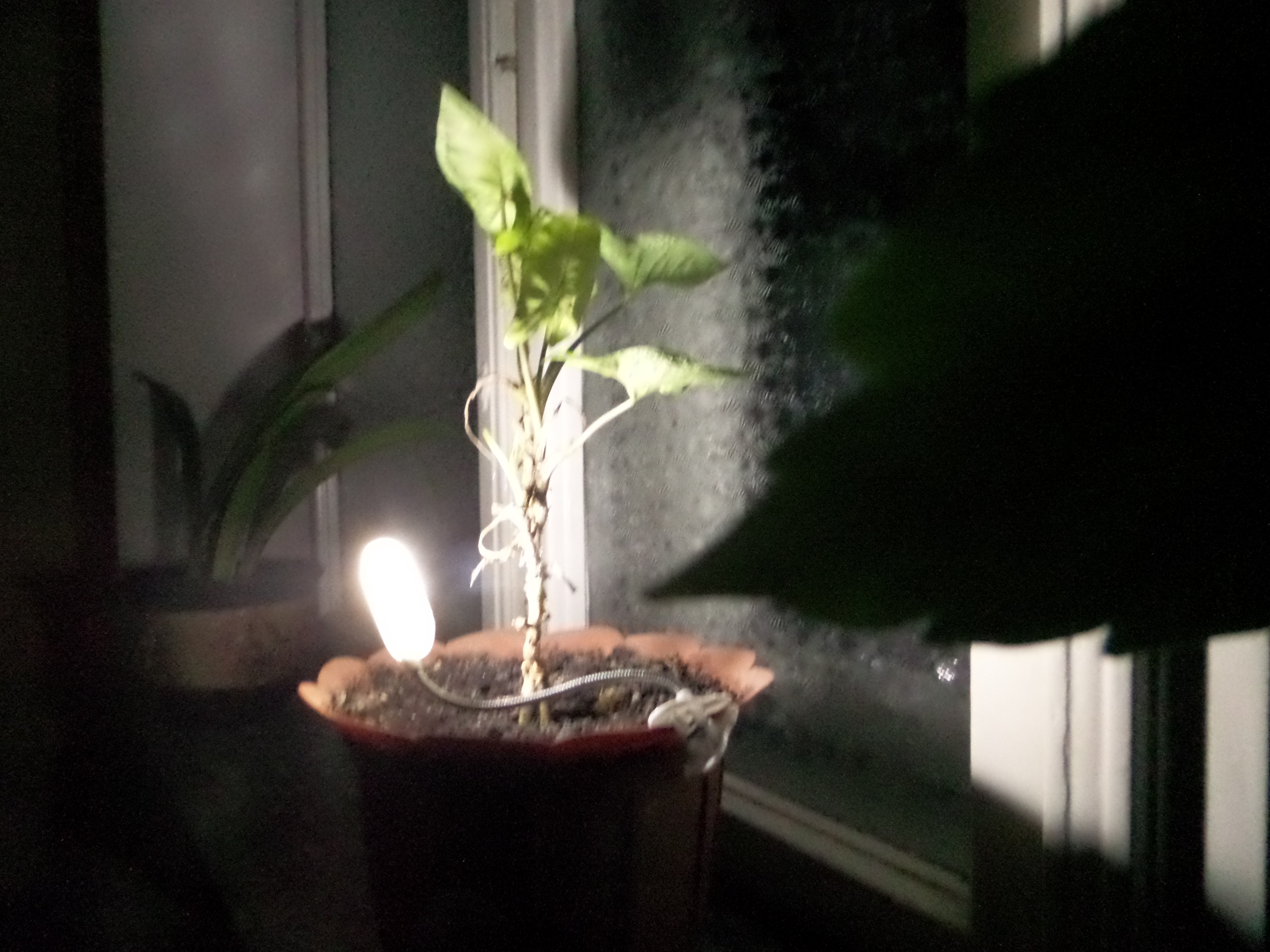 Vi tassar uppför trappan. Snirklar oss genom huset. Gradvis ökar bruset. Trots att vi inte märker det är det faktiskt nästan öronbedövande, men ljudsättningen är så bra att vi inte märker det. Det är ett fascinerande ljudskådespel.
Vi vet inte vad vi hör.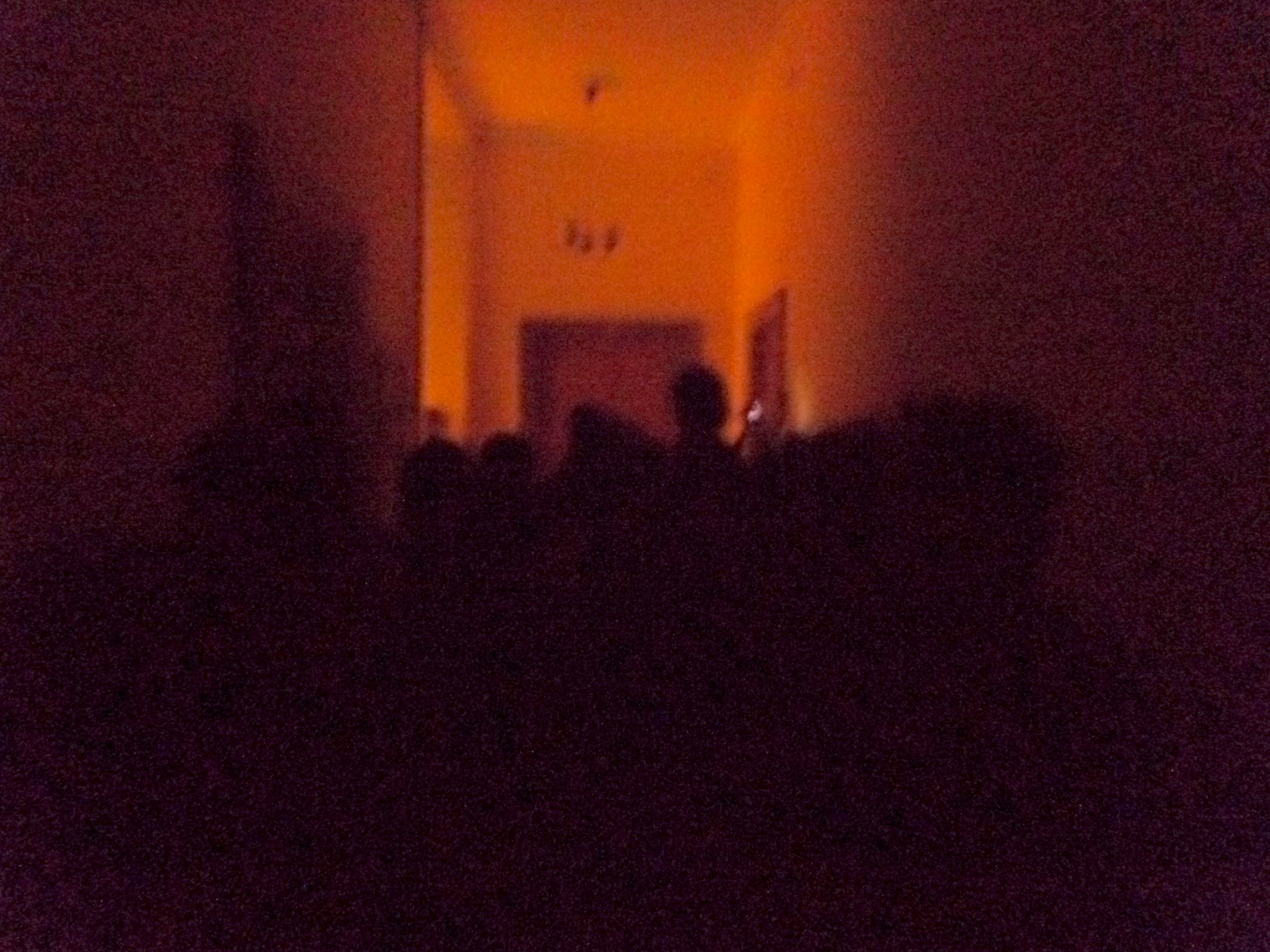 När vi närmar oss det stora trapphuset kommer vi till ljudens hjärta. En av musikerna spelar på en tolvsträngad gitarr. Med effekter och stråke lyckas han skapa ett förbryllande ljudmysterium.
Vi ser vad vi hör, men förbluffas ändå.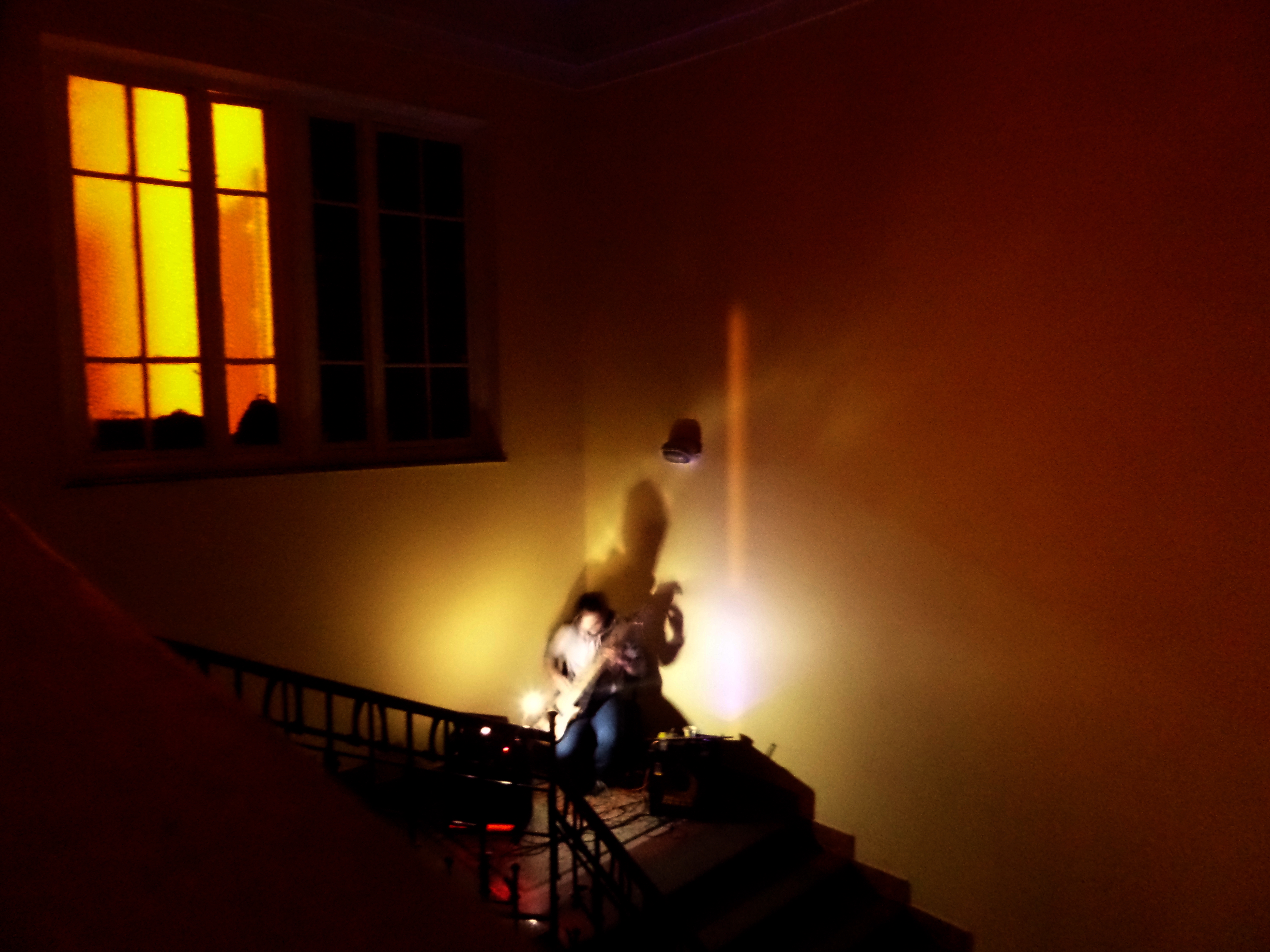 En violinist skrider ner för trapporna. Kontrasten blir så konkret. Det analoga mot det teknologiska.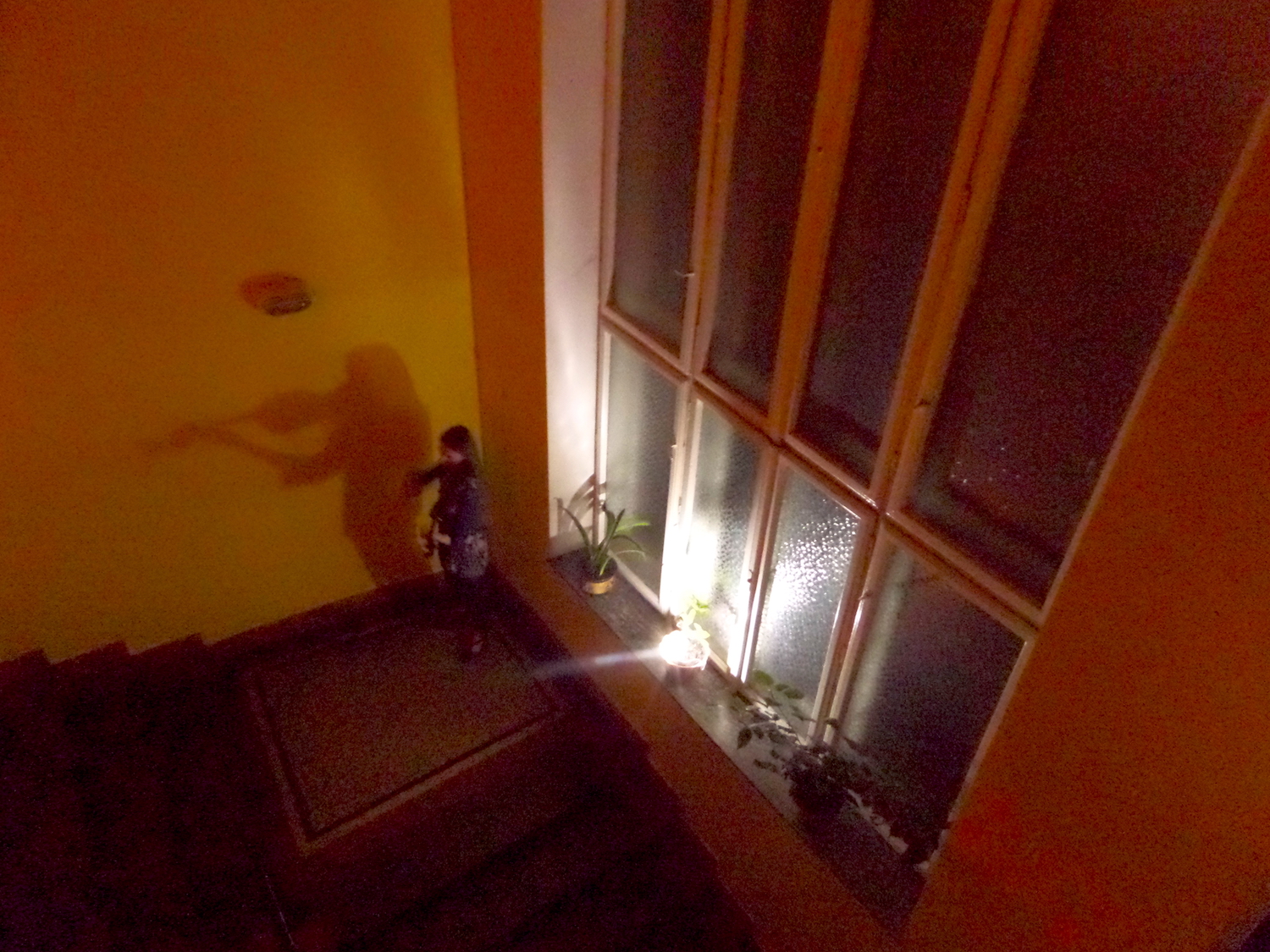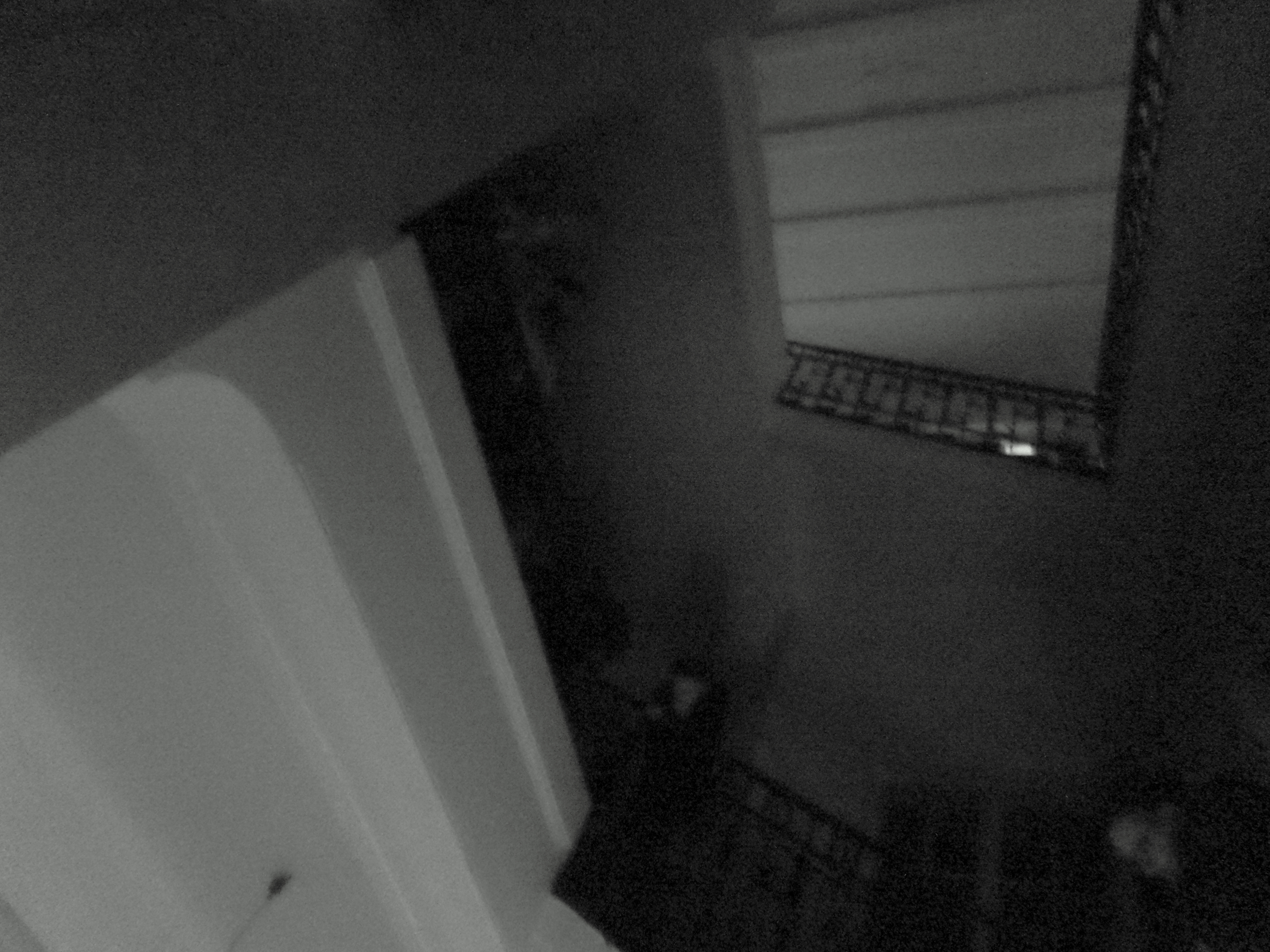 Vi föses vidare. Upp genom trapphuset. Möter en återvändsgränd. En lampa ligger på golvet. Skriker upprört mot oss. Vi lutar oss tillbaka en stund. Lyssnar till ett tonpussel som kanske nu nått sitt crescendo.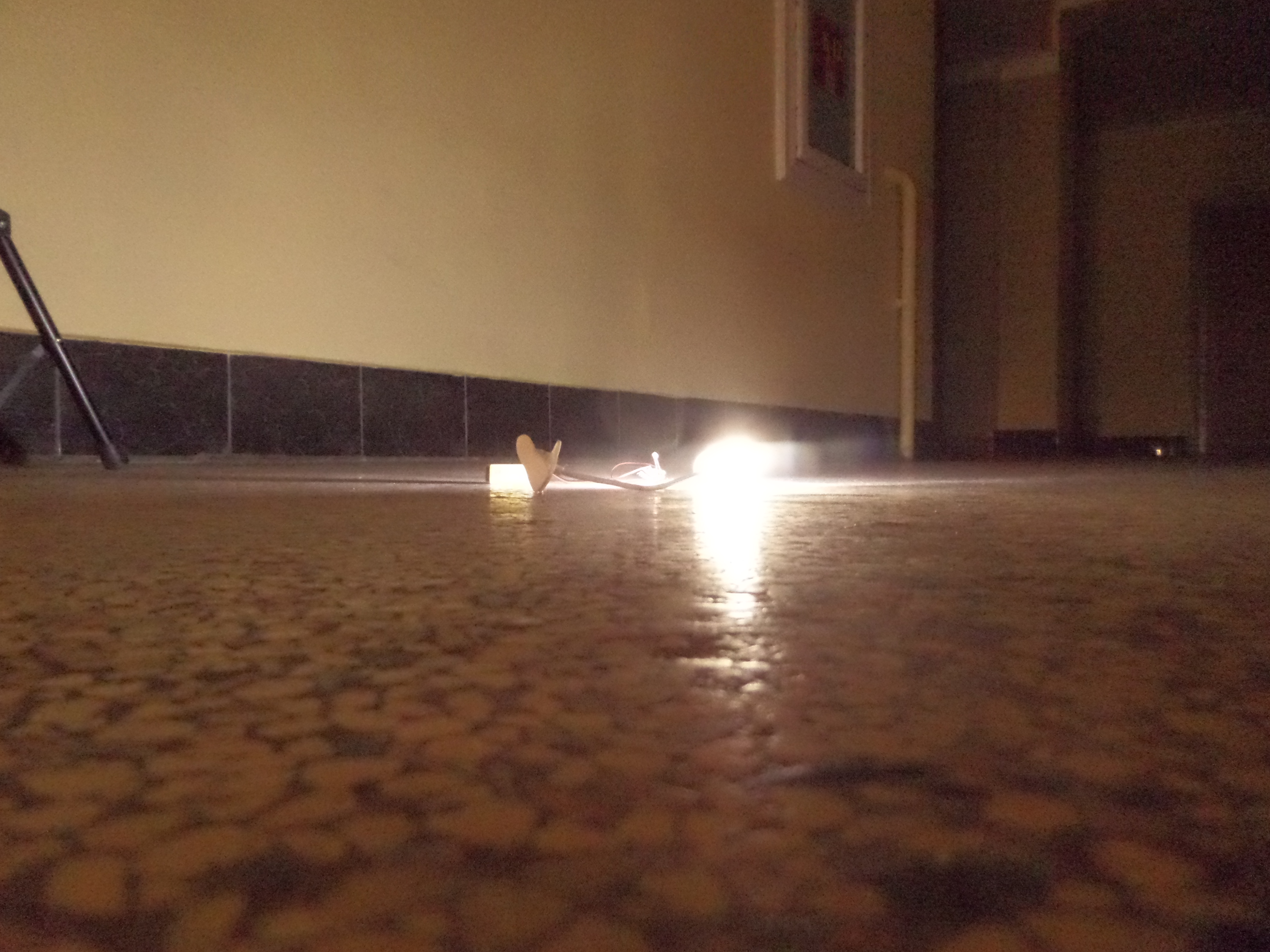 Det slår mig att musikerna är som våra vägvisare, men samtidigt aktriser. Varje gång agerar de sin musik. De måste våga anta och agera för oss, lika mycket som de tar sig an musiken och vägleda oss. Jag tänker en provocerande tanke: Vi lyssnare är ibland lika viktiga som musiken är för musikern. Utan oss lyssnare, finns ingen musik. Ingen som hör.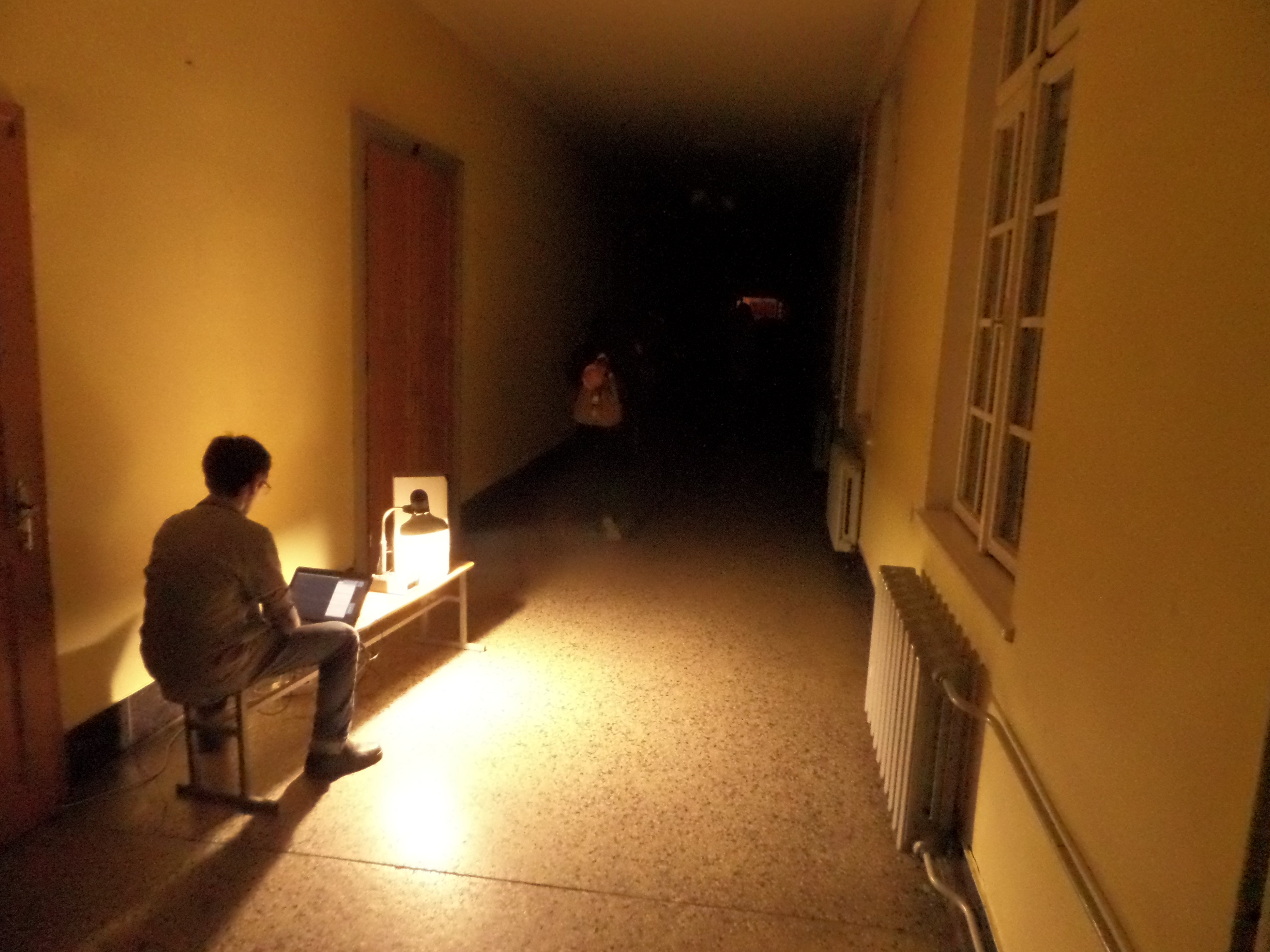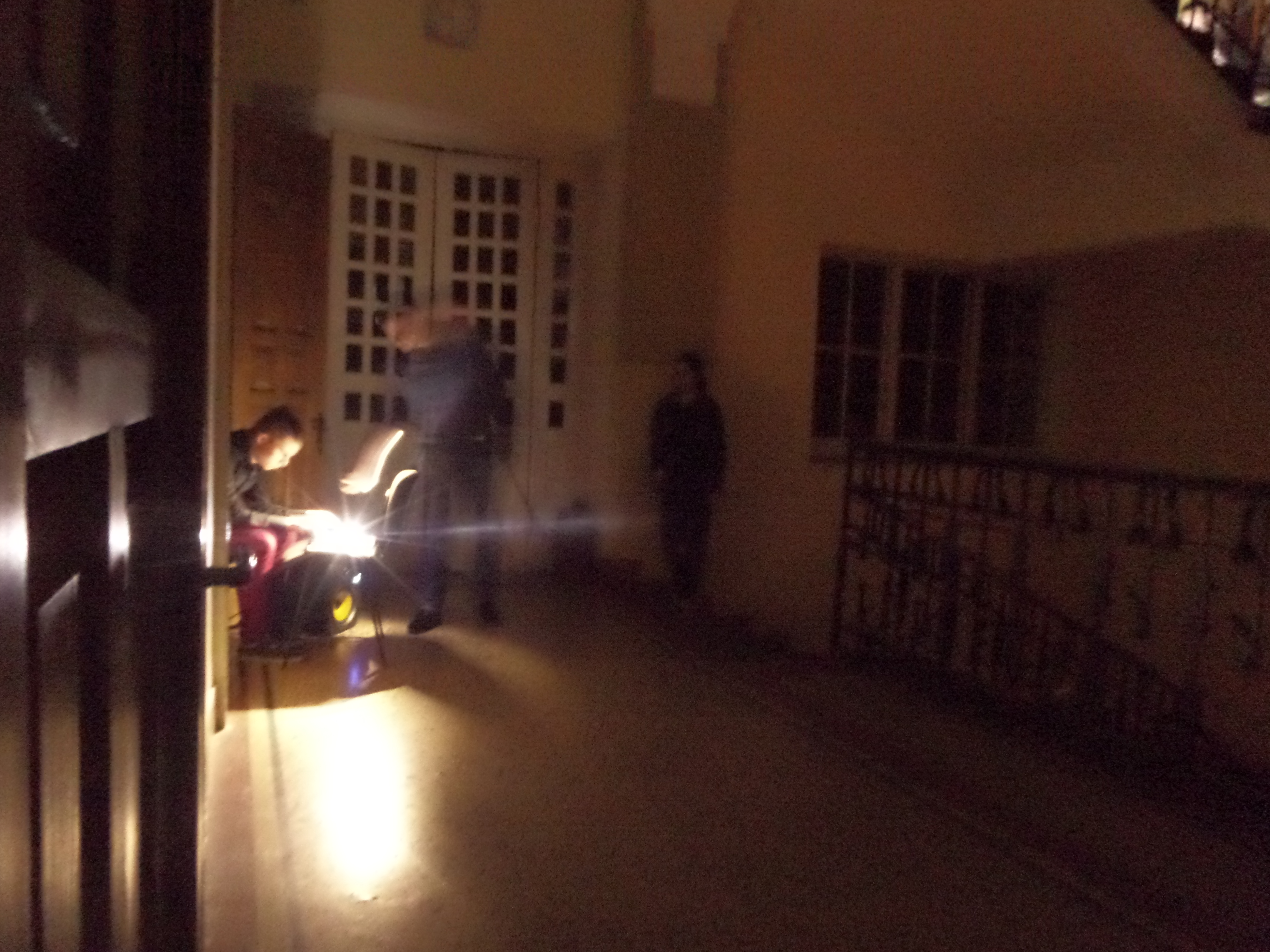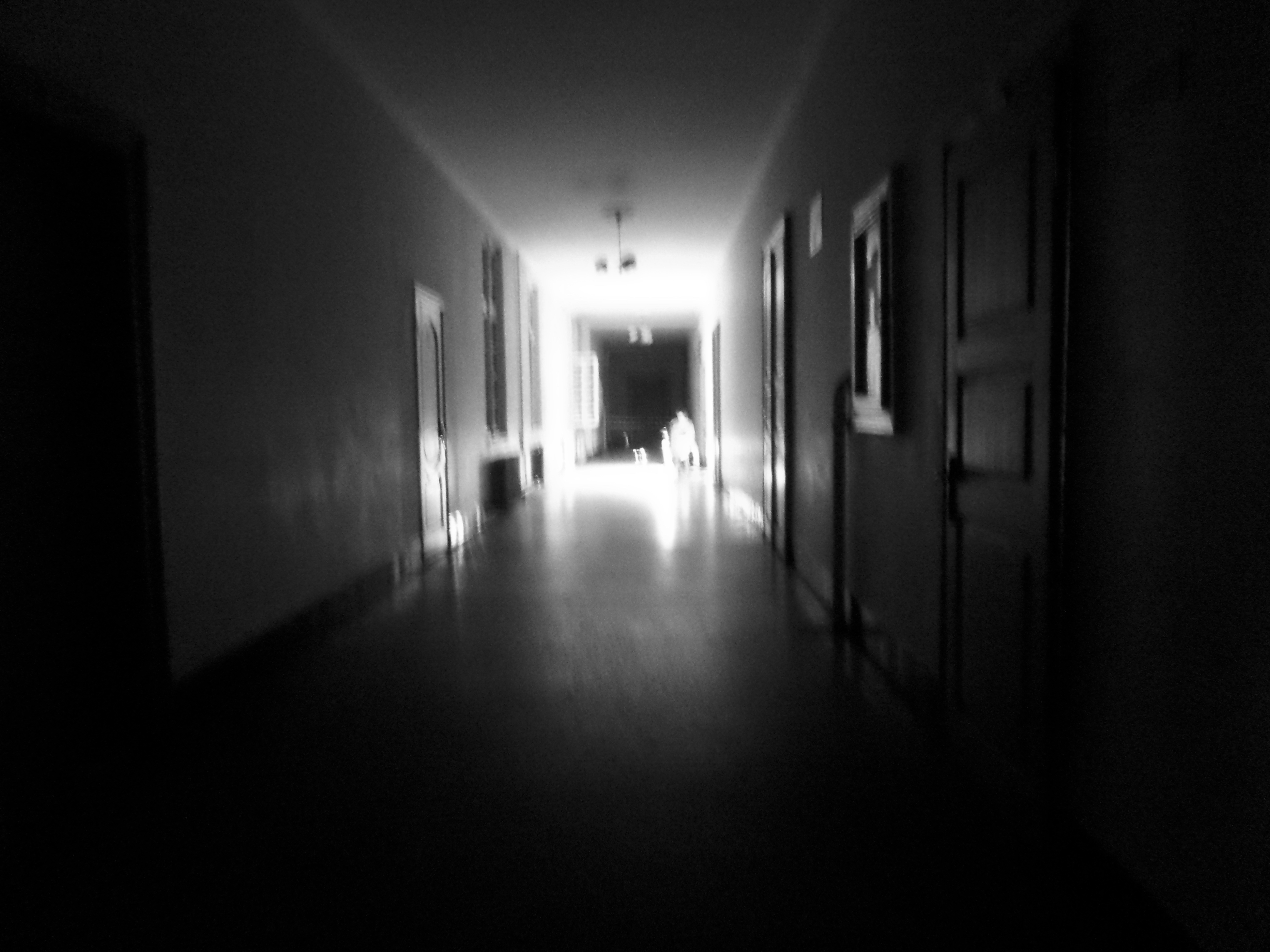 Nu kommer en ljudgenereande Ostap Manuljak vandrande genom korridoren. Avspärrningen bryts plötsligt. Det som tidigare var en avspärrad återvändsgränd, är fortsättningen på vår vandring. Vi snirklar oss ner genom huset igen. Snart står vi i foajén. Det vi hör nu kan lättast beskrivas som ett varsamt och smekande crescendo. Sedan ebbar det ut, mycket rogivande. Det dör inte ute ut, utan inger hopp.
Konserten är slut. Vi går ut genom entrédörren i natten. Sprids över staden. Men tillsammans delar vi ett musikaliskt minne. Ett minne som förenar och gör oss unika.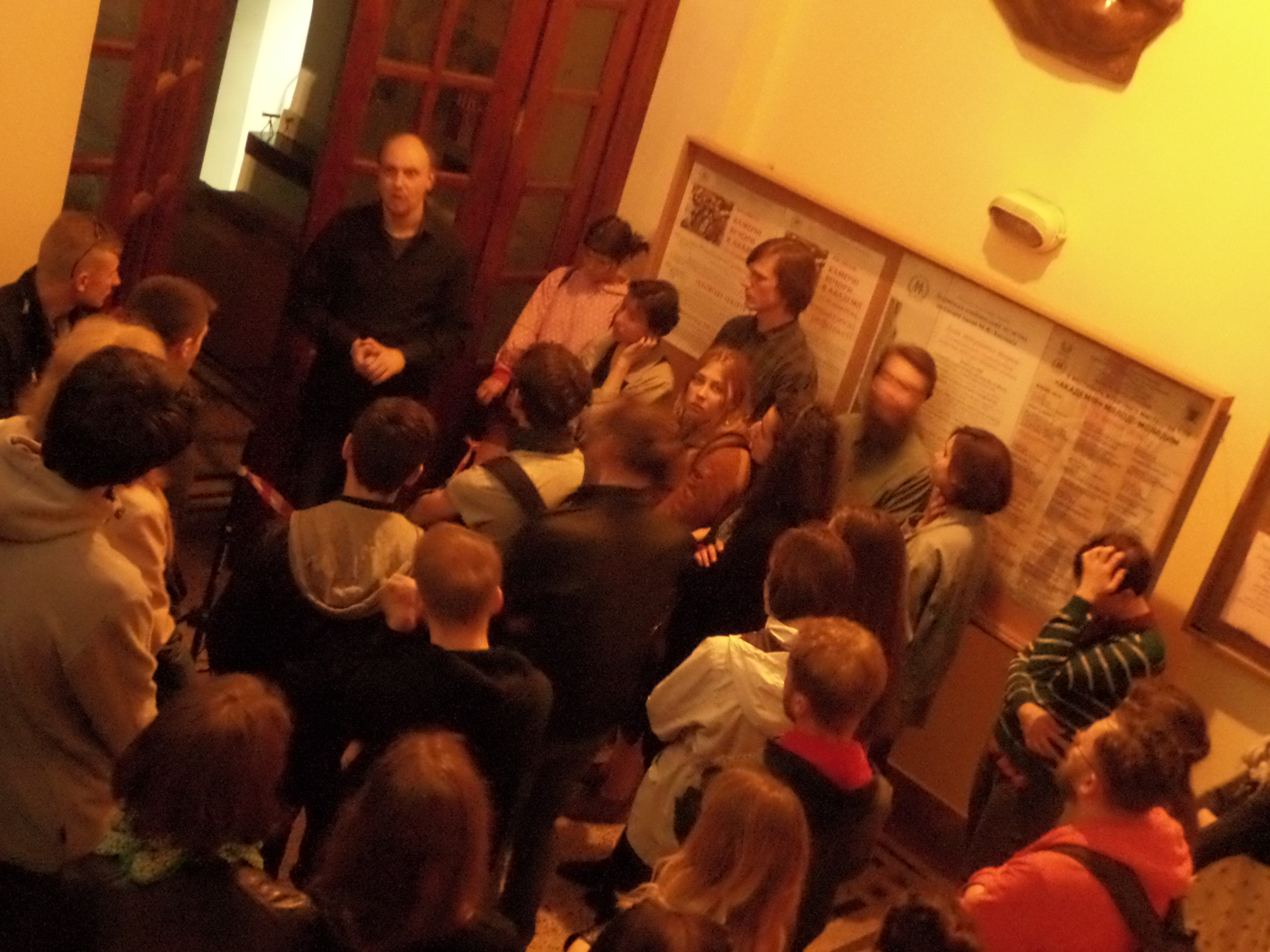 Här är Ostap Manuljaks egna ord om konserten, som avslutade festivalen VOX Electronica 2016:
Yesterday performance/happening was prepared for 3 days during workshops lead by Alla Zagaykevych from Kyiv (UA) and Marcin Strzelecki from Krakow (PL).
During workshops on Friday and Saturday Marcin Strzelecki helped students to build different oscillators/simple sound generators etc. These was used during the performance. During the workshops Oleh Rozhak and Orest Kostruba from Lviv also build oscillators.
Performers:
Marcin Strzelecki (oscillators) from Krakow (PL) and
Yuriy Bulka (electronics), Dmyto Demchenko (tap guitar), Kateryna Gryvul (violin), Roman Feshchak (sax), Mykola Khshanovsky (electronics), Nazar Skrypnyk (electronics), Ostap Manulyak (live electronic) – everybody from Lviv.

Jag vill även dela ett smakprov på Ostap Manuljaks kompositionsstil, Natural structures.
---