(Läsningstid:
4
minuter)
När Ukraina igår firade sin konstitution, så var det nog många i Lviv som passade på att gå för att lyssna till Jamala, Eurovision contest-vinnaren 2016. Park kulturyj var tydligen fullsatt till sista grästuva. Jag tror och hoppas att alla fick en härlig avslutning på Alfa Jazz på denna speciella dag (som ni kan läsa om mer nedan).
Själv valde jag att fly folkmassorna och avnjuta en konsert på Festivalen för äldre musik, som avslutas i övermorgon. Vi gästades nämligen av Fundacja Akademia Muzyki Dawnej från Szczecin i norra Polen. Under dirigenten Pavel Osuchowski ledning fick vi höra framgent ur operan "Król Łokietek czyli Wiśliczanki" av Józef Elsner. Denne kompositör var till igår helt okänd för mig, och jag måste medge att jag inte hade några förväntningar alls på själva stycket. Jag gick nog mest dit för de långväga gästernas skull.
Det skulle dock visa sig att operan var långt mycket mer fascinerande och borde vara ett verk som man lättare kan få höra. Det verkar inte finnas några inspelningar på youtube, så ni får nöja er med Gustav Söderströms inspelning från igår.
Operan skrevs under den tid som Polen inte var självständigt utan delat mellan tre imperier. Operan handlar om Vladislav I av Polen, även kallad "Vladislav den armbågslånge" eftersom han var så kort. Tematiken på librettot var därför känsligt när Elsner skrev operan. Den fick antingen inte uppföras alls, eller inte affischeras, eftersom man inte fick sprida dylik polsk historia.
Musiken är ofta humoristisk och lockar lyssnaren till skratt. Dirigenten Pavel Osuchowski avbröt sig dessutom mitt i operan, för att fråga oss åhörare om vi "hörde hur de sprang". Jo då, tillkännagav vi, visst hörde vi det!
Gårdagens solister var mycket exakta. Här snubblades inte på en ton. Lika så kören, som fick tonerna att sväva fram över imaginära vidder. Och visst fick vi nästan lust att dansa till de mazurkor som vi kunde skönja.
Så nej, jag ångrar inte mitt val av musik för dagen. Och det är det som är så underbart med Lviv, för varje musikhjärta finns det massor av plats.
Sopran: Adriana Buiak-Tsyran
Mezzo-sopran: Tetiana Makhnovska
Tenor: Nazar Tatsyshyn
Kör: A Cappella Leopolis (Konstnärlig ledare: Liudmyla Kapustin)
Orkester: Orkiestra Famd.pl (Konstnärlig ledare: Pavel Osuchowski)
Dirigent: Pavel Osuchowski
Text: Sophie "Sonia" Engström
Bild och film: Gustav Söderström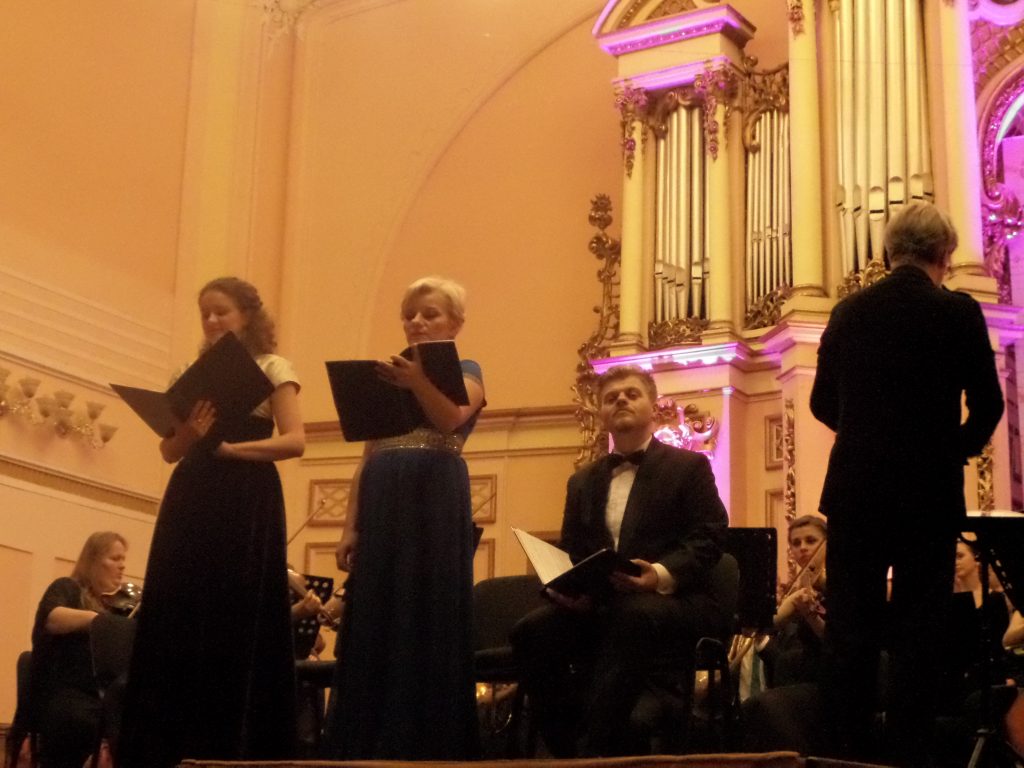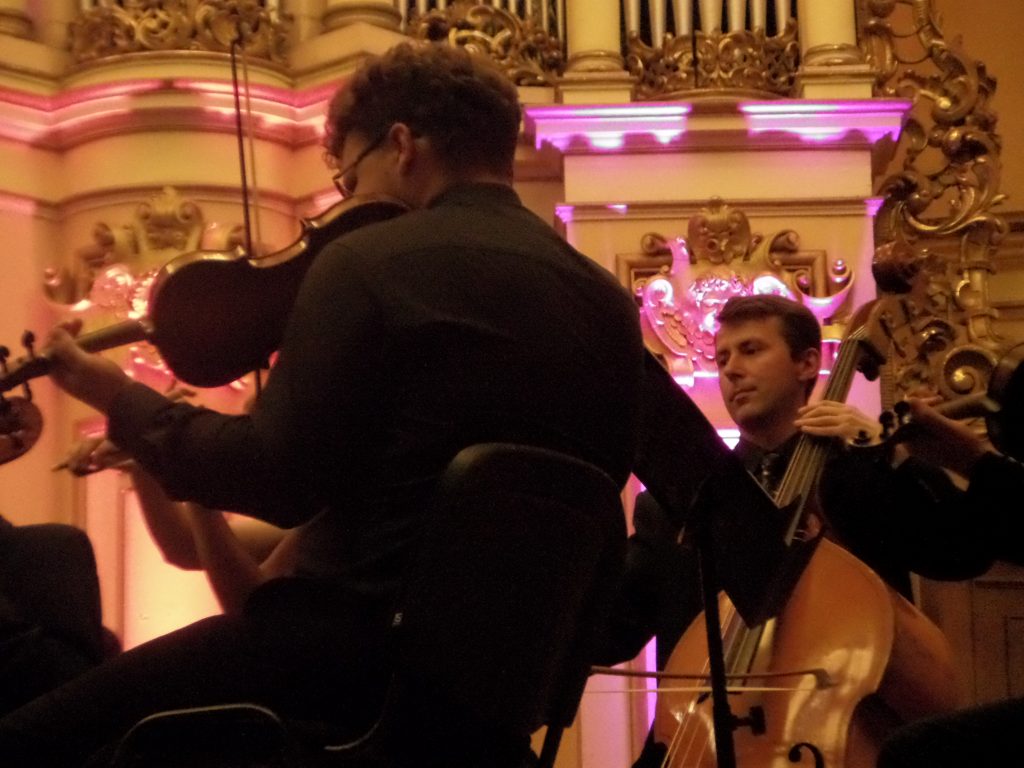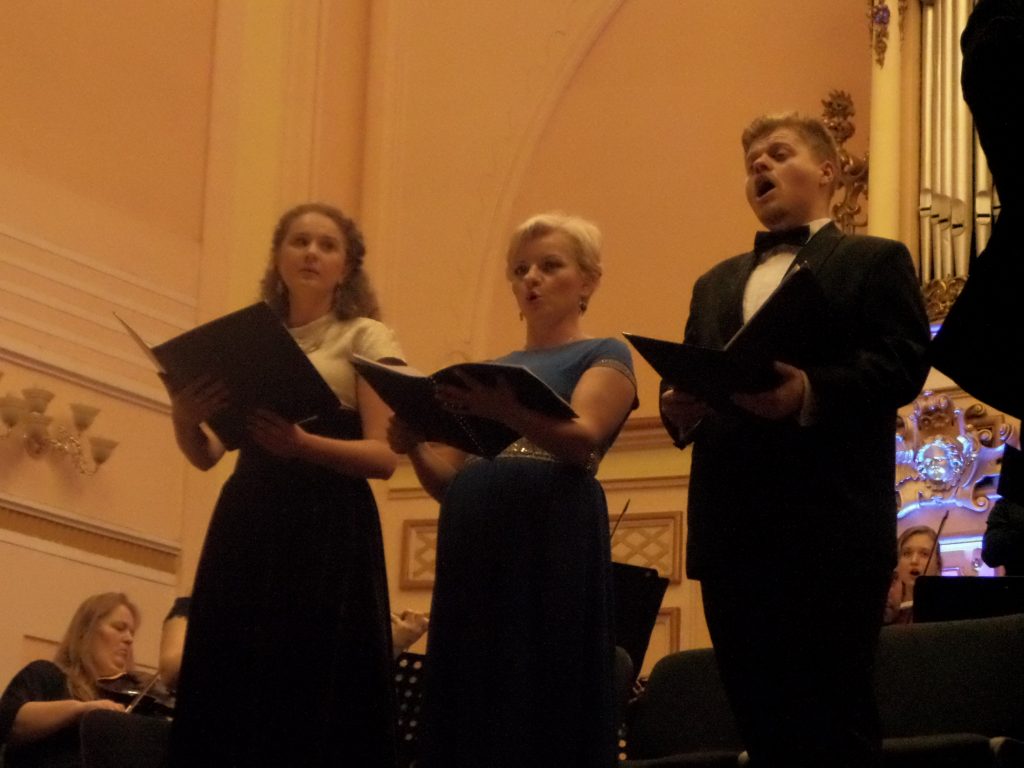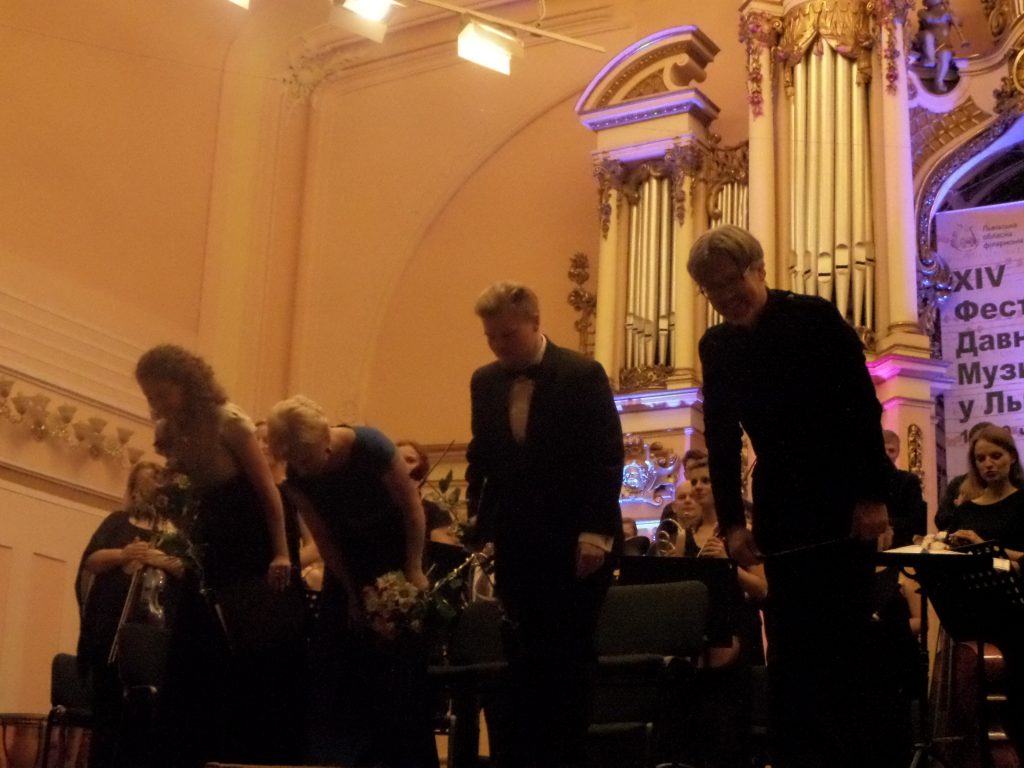 Så här skriver Mission of Ukraine to the EU om konstitutionsdagen
Today #Ukraine celebrates #ConstitutionDay

One of Europe's first constitutional documents was signed in Ukraine in 1710.

The document was an agreement between the Hetman and the Cossacks, who themselves acted on behalf of the Ukrainian people: it thus differed from other documents of this type, which were between a hetman and a monarch-protector. This was the first time that a newly elected hetman created with his voters a formal agreement that clearly delineated the bases and lines of power. The Constitution was approved by the Swedish King Charles the XII. It was written in Latin and Old Ukrainian and consisted of a preamble and 16 articles, but it did not take force, because it was written during the Hetman's exile. The Orlyk Constitution is at the core of Ukrainian political, philosophical and legal thought.

With the "Pact and Constitution of Rights and Freedoms of the Cossack Army" ("Pacta et Constitutiones legum libertatumqe Exercitus Zaporoviensis"), the Ukrainian Hetman led not only Ukraine, but also the entirety of Europe, onto the path of democratic development in the eighteenth century.

According to historians, the Orlyk Constitution is one of the first European latter-day constitutions.
Hetman Orlyk was elected after the death of Ivan Mazepa. He headed the first Ukrainian political emigre community in Western Europe and the government in exile.

Pylyp Orlyk (1672-1742) came from an old Czech family. His father died in the war against the Turks. Pylyp studied at the Jesuit College in Vilnius and was an excellent student at the Kyiv-Mohyla Academy. He was an educated man, distinguished in oratory and poetry and interested in philosophy and literature. He was competent in Ukrainian, Polish, Slavonic, Bulgarian, Serbian, Latin, Italian, German, Swedish, French, Russian, Ancient Greek, New Greek and probably Turkish. He held positions in the General Military Chancellery and subsequently became a general secretary and Mazepa's closest adviser.

Pylyp Orlyk is one of the greatest freedom fighters in Ukraine's history. The street in Kyiv on which the Supreme Court of Ukraine is located was named in his honor. In the Swedish city of Kristianstad, in which he lived, there is a memorial plaque in his honor.