(Läsningstid:
3
minuter)
I år är den västpolska staden Wrocław kulturhuvudstad och huvudstadsåret invigdes häromdagen. Wrocław har valt att skapa 12 höjdpunkter för året. Enligt Polska institutet i Stockholm ska man ha:
12 kulturhelger för både invånare och turister, 12 unika möjligheter att uppleva och glädjas åt kultur och konst, 12 sätt att få en ny syn på Europas, Polens och Wrocławs kulturella identitet. 12 olika möjligheter att medskapa och uppleva kultur. Programmet för varje helg är tänkt att fungera för hela familjer eller grupper av vänner och bekanta. Var och en kan planera sitt eget unika detaljprogram som åskådare eller deltagare.
Wrocław är en stad med en lång historia och den har präglats av mångkultur och ofta samförstånd. Men sedan andra världskriget är staden nästan helt etniskt polsk, och det här är något som staden själv lyfter fram som en viktig del av arbetet fram till att bli europeisk kulturhuvudstad. Man skriver att:
A story which is unusual, tragic and intriguing. After years of prosperity and development, there had been disaster at an unimaginable scale. The Second World War left the city utterly ruined – both physically and spiritually. It lost citizens who had been creating its greatness for many generations. Then new citizens arrived. Frightened, uncertain of the future, alienated. Brought together from many regions of the post-war country, for years they built their identity, creating their own culture. It took a long time before we accepted German, Jewish and Polish heritage lived here as one. Ours. It took a long time, but we did that. Today, we can proudly say, not neglecting the achievements of our forbearers, that we have built a new city. With all respect due to them, to otherness and multiculturalism and to history, we have created an open Wrocław, with unusually interesting culture and aspirations, contemporary and intriguing. It's time to show it to the world, to show what we consider worth sharing and what constitutes an enormous contribution to the development of Europe. We want to talk about our past and our present. About how life can grow from ruins and human tragedies. We'll be telling this story throughout 2016, without complexes, aware of our worth. We're certain our story will be interesting. And we hope it will become an inspiration for those who'll be open and listen to it.
Själv har jag inte bestämt vad jag ska satsa på i det gedigna programmet, men självklart kommer jag att försöka undersöka den del av programmet som ingår i Wrocław-Lviv. Programpunkten inleddes redan under jazzfestivalen Jazz Bez, som jag skrivit om tidigare.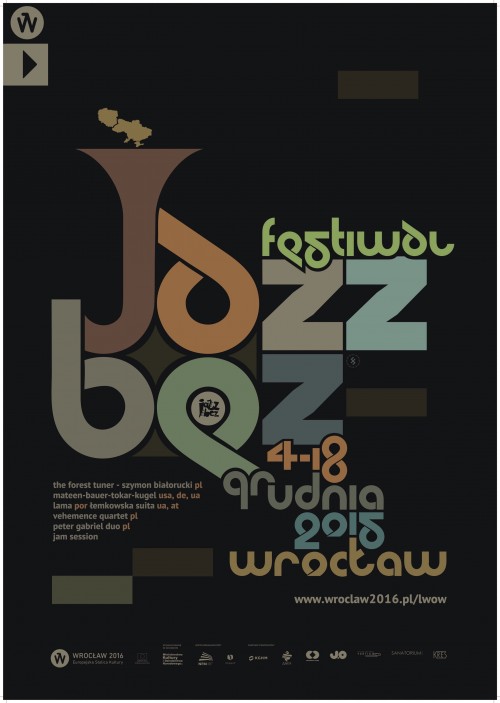 Städerna har ett mycket specifikt samband. Efter andra världskriget inledde Sovjetunionen folkomflyttningar. Den polska befolkningen Lviv, eller Lwów, fördrevs. En av dem var Stanisław Lem, den världsberömda sci-fi författaren. Många av de polacker som fördrevs hamnade i Wrocław. En stad som i sin tur fått se sin tyska befolkning fördriven till Tyskland. För oss i samtiden. är det nog ofta svårt att förstå, att Centraleuropas etniska karta, såg mycket annorlunda ut jämfört med dagens. Det är både roligt och hoppingivande att Wrocław satsar på att belysa denna historia.