(Läsningstid:
5
minuter)
"Det som var mest förvånande var att det bodde så många judar här", sa en ung student från Lviv till mig för många år sedan, efter det att hon gått på en sommarkurs arrangerad av Center for Urban History of East Central Europe. Ja, svarade jag. Det visste du väl ändå? Nej, menade hon. Ingen hade berättat i skolan att så många judar hade bott i hennes hemstad.
Jag skakade inbordes på mitt huvud, och utgick från att hon kanske varit sjuk de veckor som hon fått undervisning om judarnas historia i Lviv. Själv hade jag under mina första år i Lviv sökt upp alla platser som var knutna till de judar som inte längre finns här. Den första bok jag, som nyinflyttad till Lviv, läste var dessutom "Ett mord i Lemberg". En bok jag ofta återkommer till i mina tankar, då den bättre beskriver hur stadens judar levde, än någon annan förintelseskildring.
När jag nu bott här under många år, har jag tyvärr blivit varse att hennes påstående nog ändå var fullkomligt riktigt. Väldigt få berättar om de judar som bodde här, hur deras liv såg ut, vad de levde av och hur de roade sig. Deras liv har i staden har förvandlats till ett tyst minustecken, förvillande likt ett utropstecken som fallit till marken av år av negligering och avsaknad av stöd.
Det finns de, som med elaka tungor, vill påskina att den här avsaknaden av berättelsen om judarnas liv beror på ett inneboende förakt mot judar, eller direkt antisemitism. Det vanligaste är nog ändå att man utgår från att det finns ett genuint ointresse för hur judarnas liv tedde sig här. Ett exempel på en sådan bok är Omer Bartovs bok "Erased. Vanished traces of Jewish Galician present-day Ukraine" från 2007.
Boken, som är en noggrann förteckning över hur judarna mördades under förintelsen och vilka minnesmärken som finns kvar idag, innehåller bitvis en underton av bitterhet och dåligt återhållen ilska. Med tanke på Bartovs personliga koppling till regionen blir det lätt att förstå, hans mor hade rötter i Galizien. Det måste vara frustrerande att se i vilket skick återstoden av det judiska arvet befinner sig. Och att därtill se att det saknas minnesmärken, måste innebära ytterligare påfrestningar.
Det är inte tu tal om att det här i västra Ukraina råder brist på minnesmärken över alla de som mördades under förintelsen. Men slutsatsen, att det råder en inneboende motvilja mot judarna, behöver inte vara sann.
I min inledning lyfte jag en ofta förekommande förundran. Många, även bildade, ukrainare har faktiskt aldrig fått rätten (för det är en rättighet) att få lära sig sin historia. De kan förvånas över hur många polacker som bodde här. De lyfter häpet på ögonbrynen när man säger att denna regionen var något av en judisk hotspot före andra världskriget. Det var en rik och energiskt sprudlande judisk kultur som hade sitt säte här.
Avsaknaden av kunskap, leder också till att judarnas minne i området långsamt tynar bort. Det finns de som försöker bygga upp kunskapen på nytt. Deras arbete är i många fall helt ideellt, eller bygger på donationer. Center for Urban History of East Central Europe finns i navet på detta hjul, som försöker förändra människornas perception av platsen. Andra som arbetar vid deras sida är Rohatyn Jewish Heritage.
Det kommer att ta tid att återskapa den historiska lucka som Sovjetunionen gröpte ur. Alla minnesmärken från den tiden kännetecknas av en och samma tystnad, den att judarna inte fick nämnas. (Man använde begrepp som "sovjetiska medborgare" för att undvika ordet judar.)
Om man utgår från att avsaknaden av minnesmärken enkom beror på en illvilja eller ett förakt, lär man inte komma någonstans. Att skuldbelägga i detta avseende skapar bara nya barriärer som gör förutsättningarna för att återbörda det kollektiva minnet av judarna än mer komplicerat. Den ukrainska 1900-tals historien (och in i nutid) är ett trauma, och människorna som tillhör den är del av detta trauma. För att återinföra kunskapen om judarna i regionen kvävs lyhördheten och dialog. Genom att misstänkliggöra kommer ingen plats för förlikning att ges.
Det här ska dock inte läsas som en kritisk av Omer Bartovs bok. Tvärtom! Ett viktigare verk för att förstå vidden av problematiken med det förlorade minnet av judarna, är svårt att finna. Min enda invändning är att jag inte tror att avsaknaden av minnesmärken beror på illvilja, utan snarare okunskap (och i viss mån avsaknad av medel att avsätta till sådana).
Jag återkommer ofta i minnet till det där samtalet med studenten som förvånades över att det bott så många judar i Lviv före andra världskriget. Och jag försöker uppbringa ett minne av mitt ansiktsuttryck. Jag hoppas så att jag inte såg förfärad ut, utan att jag istället gav henne ett uppmuntrande leende.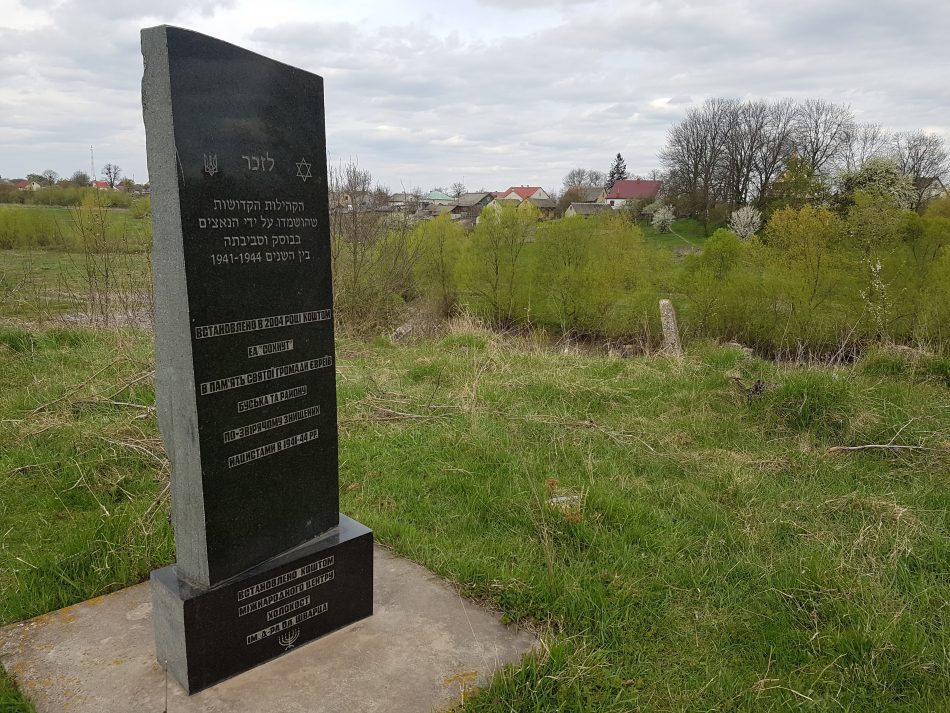 Minnesmärket över de mördade judarna i Busk.