(Läsningstid:
2
minuter)
Många frågar sig säkert hur det är i Ukraina just nu. Är det full revolution och alla springer omkring med blod sprutande från huvudet? undrar kanske en del. Svaret på det är väl kanske både ja och nej. Men mest nej. På de allra flesta håll är det bara lugna och fridfulla demonstrationer. I Kyiv delar demonstranter ut blommor till kravallpolisen. I Khrakiv, i östra Ukraina som ofta framställs som extra EU-fientligt, hjälpte polisen till att stoppa antiEU-demonstranter från att kasta fyrverkerier på demonstarterna för EU. Och givetvis är det Lviv som är mästare på detta fredliga sätt att revoltera. Till och med utrikesminister Carl Bildt pekade igår, söndag, på att Lviv är bäst på glädje och fredlighet i dessa dagar:
Media focus is on Kiev, but manifestations also elsewhere. Impressive picture from Lviv. Said to be 40.000. pic.twitter.com/aQysm85ExT

— Carl Bildt (@carlbildt) December 1, 2013
Men även de nationella hjältarna, rockgruppen Okean Elzy, har spelat in en sång som romantiserar det fredliga Lviv. Ni kan se den här (går tyvärr inte bädda in): http://youtu.be/o9hyneGbGoM
Och jag kan bara bekräfta att det stämmer. Lvivs sätt att skapa revolution är fredligt och gemytligt. Borgmästaren, de lokala politikerna, polischefen, universitet, studenterna, fabriker, ja, alla stödjer demonstrationen! Här kommer några bilder från dagens promenad genom det demonstrerande och revolterande Lviv.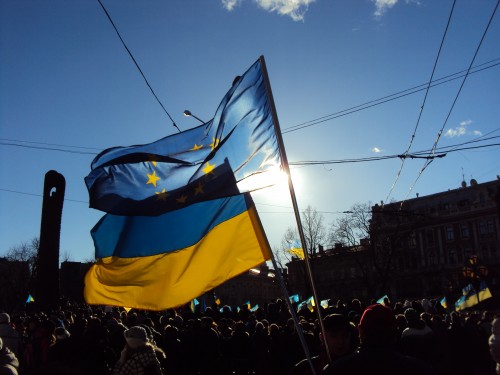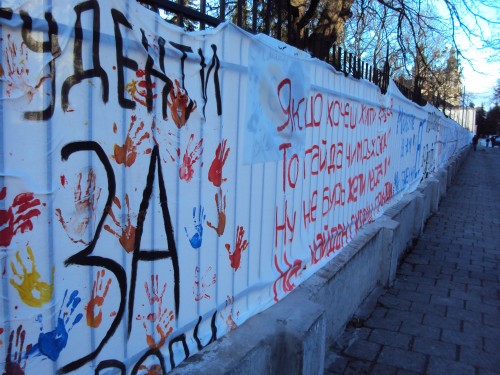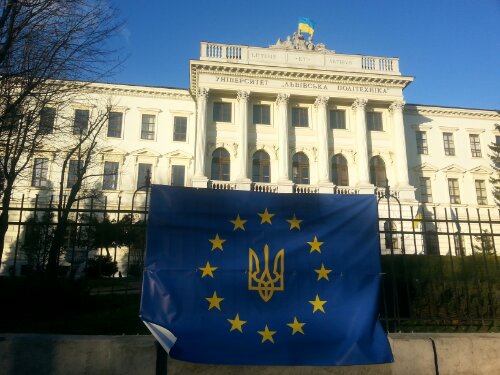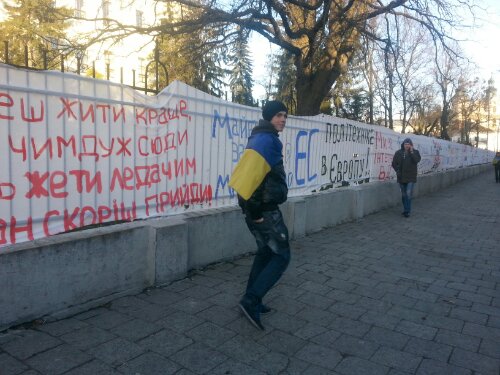 #евромайдан #euromaidan #львів #europEUkraine