Category: antisemitism, by sophie engström, Galizien, Jews, jiddish, krönika, literature, poland, ukraina
Tags: Clara Kramer, Clara's war, förintelsen, Zjovkva
(Läsningstid:
4
minuter)
Jag har precis läst de sista raderna i "Clara's war" av Clara Kramer, men hennes ord kommer för evigt eka i mitt inre. Det är nog den första bok jag läser där jag får kämpa mot tårarna. Mina händer är våta av svett och ångest. Hjärtat bankar hårt i min bröstkorg. Kanske är det även den första boken som gjort att det värker i mig på riktigt. Varje rad, varje sida gör så obeskrivligt ont. Alla Claras döda släktingar och vänner stirrar upp mot mig från sidorna. Det besinningslösa våldet vrålar mot mig. För att lindra smärtan försökte jag varva med andra böcker, men det gick inte. Claras röst trängde bort allt annat.
Claras ord gräva sig in i ditt medvetande. Det som berättas är så groteskt att det inte är möjligt att förbli oberörd. Orden äter sig in i dig. Gröper ur varje liten uns av tilltro till mänskligheten. Hur är det möjligt att vi kan förvandlas till sådana gräsliga mördarmaskiner? Vad är det för fel på oss?
"Clara's War" är Claras berättelse från Zjovkva, eller Zołkiem som hon kallar det. En stad ett stenkast från Lviv. När Clara föddes var det en stad där judar, ukrainare, polacker och även tyskar, levde sida vid sida i relativ fred. Antisemitismen fanns där under ytan, men hölls mirakulöst i schack. Men andra världskriget förändrade allt. För att överleva måste Clara och hennes familj gömma sig. En av stadens tyskar, en ökänd antisemit, tar familjen i sitt beskydd och gömmer hela familjen samt några familjer till, i en bunker under huset. Sammanlagt gömde denne man och hans familj 18 judar l i över ett år.
Jag har varit i Zjovkva många gånger, men kommer aldrig igen kunna återse platsen utan att bära med mig Claras berättelse. Zjovkva kommer hädanefter att vara en plats av död. Kvalfull död. Där barn dödas och lemlästas. Där så många oskyldiga mördades för att en sjuk ideologi spridit sig som ett gift genom samhället. Där vanliga människor plötsligt förvandlas till mördare. Där unga män skryter om hur många judar de mördat med sina bara händer. Där man rättfärdigar sitt mördande med bland annat kyrkobesök. Söndags förmiddagarna är för övrigt de dagar som är säkrast för alla judar. Då är mördarna i kyrkan. Men mördarna är inte bara långväga gäster. De är också dina grannar. Sådana du delat sorger och glädjeämnen med.
Det är värst det här med barnen. Jag är sannerligen ingen barnälskande tant, men att läsa hur det besinningslösa våldet gick ut över barnen gör att varje hörn av min kropp vrålar. Varför mördar man barn på det bestialiska viset? Hur mycket jag än försöker förstå vad det är som sätter igång en sådan vilja, att mörda, så är det inte möjligt att acceptera. Det går inte att acceptera att någon kan hitta ett sätt att rättfärdiga det. Och det mest avskyvärda är att det är vi! Vi människor som utför det!
När tyskarna lämnade Zjovkva hade endast 50 av de runt 5000 judarna överlevt enligt Clara. Det betyder att endast 0.01% av stadens judar överlevde. Det så makabert. Och som Clara skriver: "When I think of the Holocaust, I think of 6 million lost, I think of the 50 million who never had the chance to be born".
Vissa punkter i livet markerar stora förändringar för oss. För mig var det när jag läste Phillippe Sands "East West Street". Jag har tidigare berättat om hur den boken drabbade mig. Det är ingenting i jämförelse med "Clara's war". Man kan säkert fråga sig varför jag fortsätter att läsa något som är så fasansfullt och som gör så ont i mig. Det finns inget enkelt eller entydigt svar på det, men jag tror det är för att jag på något luddigt sätt ser det som mitt ansvar. För jag vill minnas att de fanns här. Jag vill vara delaktig i att minnet av dem består. Några kanske menar att det som hände då tillhör historien, men jag vidhåller att det enda sättet att förstå vår samtid och skapa en dräglig framtid är att minnet och kunskapen om att de var en del av den här platsen bevaras. Det är ett arbete som aldrig tar slut eller fullbordas.
Ty däri ligger vårt ansvar. Att aldrig glömma.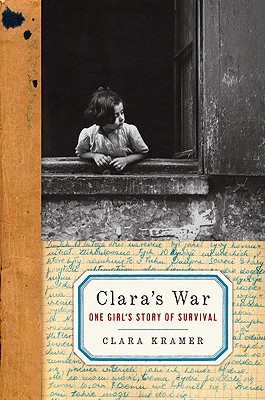 ---